Every gwailo-infested/tourist-trap bar and restaurant zone in Hong Kong must, sooner or later after coming into existence, start to hold a street festival. The trailblazer is of course Lan Kwai Fong, which hosts such events all too frequently, much to the irritation of innocent nearby residents who slip down there for a quiet beer on a Sunday and find the whole place packed full of African drummers on stilts, depressing mime artists and rows of stalls selling small plastic 'yards of ale' and horrid food.
The stalls are mostly extensions of the usual overpriced LKF outlets, and the bustling crowds mostly young couples – especially from the Mainland – attracted by the district's glamorous brand name and the exotic prospect of sipping San Miguel there. (Despite this rude interruption of some people's pleasant Sunday, a quiet beer is actually still available: none of these visitors step into the bars themselves.)
Does the Wanchai pub strip have a festival? I vaguely recall a section of Lockhart Road being cordoned off for such an event from time to time in years past, but something tells me the concept would be considered a bit prissy down there.
Which brings us to Soho…
I had no choice but to go to the Village on the Hill's Street Fair and Wine Walk this weekend because the second I opened the front door of my building I was in it. My first instinct was to retreat back indoors, but it is a two-day event, and eventually hunger drove me out among the hordes of people clogging up the low-rise neighbourhood south of Hollywood Road.
I would love, at this stage, to describe a commercial, contrived and joyless beer-and-sausages quasi-carnival of the sort regularly organized a few blocks away in LKF. But it wasn't like that. Soho's food and beverage outlets sat back while all manner of eccentrics and misfits came in and set up their own stalls selling handicrafts and other (non-F&B) items.
The bulk of them were offering home-made or self-designed jewellery, greetings cards, kids' clothing, bags, ceramics, artwork and similar, barely desirable knickknacks. Clothing takes skill to make. Otherwise, it is fairly obvious from looking at them that anyone could put these wares together. It doesn't take much to twist pieces of silver wire into funny shapes and call them earrings, and anyone can staple bits of art paper together, dab a bit of water colour on the front and call it a trendy notepad. If this sounds harsh, come next year and see for yourself.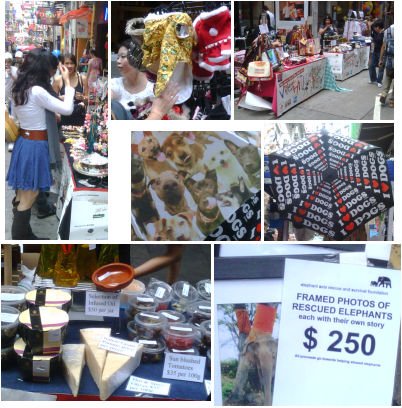 The dog-worship cult was much in evidence, with one stall selling little but canine-themed umbrellas. At the other end of the scale, several vendors were offering genuinely useful fare: one table displayed a range of cheese and pickles, while another had photos of rescued elephants, complete with each creature's personal and touching tale of tragedy.
But everyone was having fun. Unlike the LKF festival, where everyone seems to walk around pretending to be enjoying themselves, this was laid-back and amusing. It was not boozy, unless you count some genteel wine-tasting. Children were all over the place. Most of all, despite the best efforts of the Hong Kong Tourism Board to butt in, this was mostly by and for locals. Not the earthy, Cantocentric locals that dwell in their millions in public housing estates on the other side of the harbour to be sure. But few map-clutching outsiders could be seen. I would bet most of the people wandering around had come no further than half a mile, apart from the stallholders who had paddled over by raft from Lamma.
Something else differentiated the Soho fiesta from its sterile LKF counterpart. Something familiar, something that roused mixed nostalgic feelings. The voice in my head demanding "rescued from what?" was soon overpowered by this strange sensation of other-worldliness as I strolled past the tie-died skirts, the organic goat-milk soap, the incense, the beads and the home-made chutney…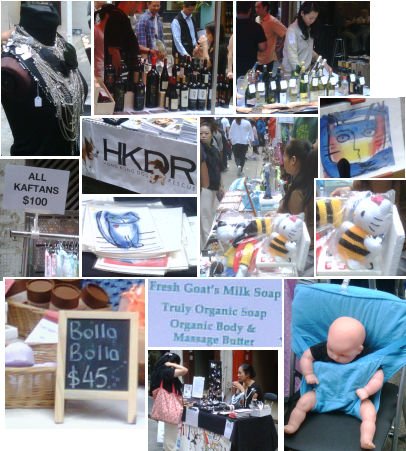 Oh my God, I've died and woken up in the 1970s.