Stay neutral during World War II; end up getting run by Germany. Ireland teeters on the edge of taking a US$100 billion-or-so bailout from the European Union/IMF. I never realized the Irish stock market had a financials sub-index, but it does (five constituents), and it is currently at 2% of its peak in February 2007. Bloomberg also says the Republic's banks' bad debts of EUR50 billion equal a third of its GDP. That doesn't count the other EUR35 billion hole overseas banks are sitting on, which in turn of course doesn't count whatever Portugal, Spain et al bring to this mess.
As with Greece earlier this year, markets and media postulate apocalyptic prophecies, defying governments to stop them becoming self-fulfilling. On one level, it would be amusing to see the Euro currency zone – an authoritarian exercise aimed at depleting the status of democratically run nation-states – blow up. In practice, the crisis could entrench the Euro-visionary project by leaving no option apart from central fiscal control. (Without wishing to be cruel, Ireland was never totally convincing as a country; if it's any consolation, they'll be politically less a part of the British Isles than ever.)
Far more important than any of that: what about my portfolio, bubbling away nicely thanks to all that hot money? The last thing it needs is a sovereign-debt Godzilla wrecking the whole planet.
While we're waiting for default, which is presumably where all this ends because no-one's going to stump up half a year's GDP, Hong Kong finds itself under threat from other international organizations on the prowl, trying to extend their dominance wherever they can. Specifically, we have the United Nations, which has forced its way into our community to hold a fire-walking workshop in which 14 people ended up scalded. This is just our first taste of slavery under a utopian one-world government dictatorship: coming next is the Asian Games 2023.
Except… Some good news just in. After whining about US quantitative easing at the G20 meeting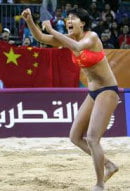 in Seoul, Chinese officials have now started printing thousands of extra tickets for sporting events in Guangzhou, after athletes found themselves performing before empty stadiums. Yesterday's women's beach volleyball – a spectacle normally guaranteed to attract hordes of pervy, voyeuristic teenage boys with spotty faces – attracted just 300 people instead of the anticipated 1,400.
Tiresome excuses about ticket distribution have followed of course, but surely this deals the final blow – like a discus flying into some aging, blazer-clad umpire – to the Hong Kong government's depressing attempts to inflict this sporting event upon its innocent people.
Our officials got a resounding 'no' from the public the first time they raised the possibility of hosting the 'Asiad' for a mere HK$13 billion (plus plus). A lame offer to halve the burden prompted even greater snorts of derision. The Guangzhou fiasco surely makes it abundantly clear: we don't want to watch cyclists whizzing round and round for hours, or Wushu players performing their exotic somersault/yodeling/limbo-dancing feats, or even buxom Kazakhstani women leaping from the sand to slap a ball over the net. No-one else does either. Anyway, we need the money to sort out the UN fire-walking disaster. And while we're at it, spare a thought for places that don't even have a penny left.