The Great Central-Wanchai Bypass Ventilation Building Outrage Massacre of 2010 continues, with the Hong Kong government announcing that relocation of the pollution-spewing eyesore is "not feasible (with photo)".  This represents a hardening of official attitudes: a bureaucratic backlash against the opposition to the ventilation buildings near the highway tunnel entrance right in front of IFC Mall.
The infrastructure fetishists of the Highways Department originally hoped to lure the public into accepting the evil and hideous smokestack monstrosity by offering us a choice of design: 'streamlined green roof' and 'play of illusion':

The idea – based on the civil servants' usual assumption that the city comprises themselves plus 7 million child-like, mildly retarded cabbages – was to make us feel flattered and involved, so we wouldn't notice that it was a fat, 60-foot tall block churning out vehicle exhaust fumes.
Now it's No more Mr Nice Guy: We're going to put that thing there whether you like it or not. However, in a valiant attempt to keep everyone calm, the government imagineers have come up with another artist's impression of the final result: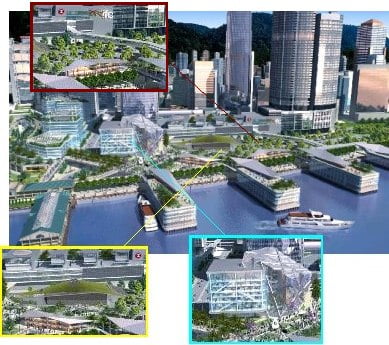 Putting the ventilation building right there, it seems, will turn the harbour front into a green idyll – the azure crystal waters of the sun-kissed Aegean, embraced by the lush emerald foliage of the Amazon. And there, right in the very centre, just visible to the keen-eyed black kites that circle the pristine skies, is our very own grassy knoll. That's right: 'streamlined green roof' nestles contentedly amid the clear air, immaculate water and the orchard miraculously growing out of the concrete. And a couple of gleaming, cube-like new office blocks right in front of IFC 2 that I don't recall seeing before. Not a trace of six-lane freeways to be seen. Just – if you look really, really closely – a few happy loving couples atop the little hill sunbathing and picnicking sur l'herbe.
Two questions. What is the artist taking? And where can I get some?