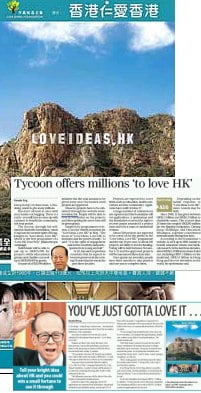 I need an idea: something that will benefit the community (according to the South China Morning Post) or simply make a difference to it (The Standard). I will post the brainwave on Li Ka-shing's LoveIdeas.HK, wait for the votes to pour in and then collect my HK$25,000 grant for my exciting project.
I am leaning towards providing every bar in Hong Kong with a free supply of Quick Fix, an artificial urine, which customers will be able to use when the jackbooted Bauhinia Foundation Gestapo thugs march in to do their proposed compulsory drug tests for which public support is so overwhelming. In practice, my project will need to target only pubs that don't serve Mexican beers like Corona, which years of scientific and lay research has proved looks, smells and tastes just like the real thing.
The SCMP doesn't insult our intelligence by mentioning it, but The Standard makes a point of quoting a spokesman as saying that Love Ideas HK "is not aimed at countering the rising tide of anti-wealth sentiment in the city," thus confirming – as if anyone thought otherwise – that this is exactly its purpose. Li is 82 and no fool. I have often noticed how careful his Park N Shop and other outlets are not to gouge consumers as much as they could. Rather than exploit the duopoly-cartel's pricing power to the hilt, and risk insurrection, they rip us off relatively modestly, week after week, decade after decade. Then he tosses a bit back as a great philanthropist.
It is hard to believe the second-generation tycoons will be able to pull this off. KS Li's anointed heir, Victor, seems to be almost universally disliked among his fellow plutocrats for what they claim is his arrogance, presumptuous sense of entitlement and tendency to throw his weight around (though I couldn't possibly comment). Given the rise of anti-wealth sentiment that everyone is busy saying isn't really happening, the scions will need to be smarter than their dads at asset-shuffling, shoe-shining and market-cornering, which is improbable.
With the groveling to Li accomplished, The Standard shifts its tan-coloured olfactory organ in the direction of Lawrence Ho, son of Macau's casino king Stanley. The boy Lawrence is spending US$250 million on a show at his money-losing City of Dreams casino-hotel complex (co-owned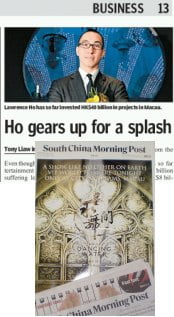 by Australian junior tycoon, James Packer). The Standard refers to the spectacle as The Housing of Dancing Water, which sounds like a block of subsidized apartments in serious need of repair. The Financial Times, which has photographic evidence that this extravaganza is going to be utterly vile, says the "Disney-esque story is set in a magic kingdom where a princess, played by Faye Leung, is imprisoned by her evil stepmother and has to be rescued by a mysterious stranger blown ashore by a storm."
It is the creation of a European Cirque de Soleil guy (straight out of central casting – enjoy the excruciating accent, pretentiousness and self-importance starting just after 1.20) and includes a 3.7-million-gallon pool; people who like this kind of thing can of course cross the road and see Cirque's Zaia at the Venetian. The idea is for Macau to do a Vegas-style transition from sleaze to family entertainment, though this is a bandwagon that the wily Ho Senior, now in his deathbed, has kept well away from. His places are pure gambling, with pawn shops outside and hookers traipsing back and forth between them. And pure profit.
An anonymous skeptic quoted in the Asia Times reveals to me why I find the tacky resorts in Macau so morbidly fascinating: "I'm always attracted to dysfunctional properties." He goes on to say of City of Dreams and The House of Dancing Water:
"They are doomed whatever they do … The daily production cost is higher than Zaia, so [if] they charge too low a price, they will be operating below the breakeven line. Too high and no patrons. They are screwed, so I suspect they will lower the prices once past the initial novelty phase.

"I heard the operating cost is US$100,000 per day, initial production cost US$250 million. Anything less than 50% of tickets sold at US$100 each will result in a loss, and that's not amortizing the production costs. You can assume they will give away at least 50% of the tickets to their junkets, so that will clue you in straightway that they are going to lose money hand over fist."
I'm amazed the Hong Kong government didn't think of it to help us recover from SARS.