"In panic and indecisive" is one verdict on the performance of the Manila police during the bus hostage drama. It is a phrase Hongkongers usually associate with their own government, but at least – we assume – our cops would handle such a situation professionally. They would probably make sure the whole proceedings weren't broadcast live on TV and radio. They wouldn't have allowed the hijacker's armed brother, plus other bystanders, to stroll right up to the scene out of nowhere. They would have succeeded in pulling the bus door off first time. They would probably have a real negotiator present. Little things like that.
The Philippines is a joke country. But yesterday's freakish outbreak of deadly mayhem leaving eight Hong Kong tourists dead does not make it more dangerous than it was last week. The Big Lychee already views abroad – or Southeast Asia, more accurately – as a risky place, thanks to Thailand's civil strife and Indonesia's bombings and pogroms, let alone the incessant ferry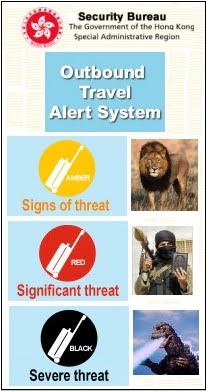 sinkings, volcano eruptions, typhoon strikes and journalist massacres of the region's former Spanish colony.
What, therefore, is the point of the Hong Kong government's decision to issue a Black Outbound Travel Alert for the Philippines? This means the recall of all Hong Kong package tours already down there, cancellation of all planned/booked/paid-for/bags-packed group trips until further notice, plus an official warning to everyone else to steer clear of the place (despite a constant stream of migrant workers and others between here and there).
One possible answer to the question is that, in a state of panic and indecision about appearing to be panicking and indecisive, our leaders proclaimed the costly and troublesome order to at least tackle the 'indecision' part of their self-perceived shortcomings. Ever since the Mainland and Macau mounted operations to rescue their delicate tourists stranded in Bangkok's shut-down airport in 2008, our officials have been especially petrified about appearing uncaring towards Hongkongers who venture out into deepest darkest foreign parts and encounter problems. Screw up thousands of planned trips, and save face!
Another explanation is that the Hong Kong government, a non-sovereign entity with no independent foreign policy, is using the travel alert system as a diplomatic or political weapon: a way of hitting back at Philippine incompetence out of spite. If this is the case – whether the target audience is Manila's bumbling officialdom or (more likely) our own local public opinion – it is a stupid thing to do. It's costing money, even if you don't care about the advisory system's integrity. Coming from a government that routinely misuses public consultation exercises, off-the-record media briefings and other functions of its publicity machine, it is all too believable. One consolation: there are probably some very good ex-HKG Manila deals on offer all of a sudden.