The Hong Kong government warns its seven million alert and enterprising citizens against deliberately ingesting the parasitical nematode Ascaris to lose weight.  Ascaris is the reason we don't eat pork rare.  Most of us, of course, even if we could usefully shed a few pounds, instinctively know not to swallow the eggs of worms that grow to over a foot long and congregate within us in enormous, intestine-clogging clumps: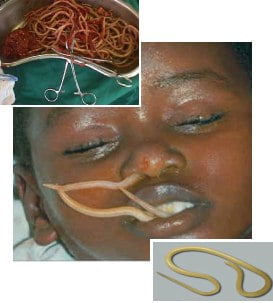 Who exactly are the small minority who would actually do this?  I would like to think they are drawn from the less-educated among us; they are probably exceptionally vain and shallow, and – it grieves me to say it – almost entirely female.  The average young Hong Kong working woman spends around 30%* of her income on cosmetics and quack skin treatments involving gamma rays, capsules of 'serum' and masks of exotic green mud that purport to turn faces cadaver-white and even change the shape of the chin.
The idea is that, by investing all this wealth in her appearance and scrawniness, she will attract and marry a rich man who will enable her to live the sort of lifestyle portrayed in TV commercials for quasi-luxury apartments, swishing between sports cars and ballrooms in long dresses, surrounded by out-of-focus sparkling objects and murmurings about elegance and exclusiveness.  If she saved and invested the same amount of money at that age, she could look forward to a life of economic independence – but how do you market index tracker funds as the glamorous accessory every helpless, simpering, emaciated, vacant-looking bim must have?
Oddly enough, in the same breath, the very same Big Lychee government is welcoming a public petition in favour of a different, and far more nefarious, form of bloodsucker.  The 1.1/1.3/1.6 million signatures collected by the pro-Beijing camp backing the administration's non-reforms to the electoral system are a bit too numerous to ring true; only the Communist-backed Wen Wai Po and Ta Kung Pao give the story serious prominence, and even the Standard quotes skeptics pointing out that the signatures must have been pouring in at the rate of 14.9 a minute.
Still, it is surprising that anyone not named Li or Kwok would put their name to a campaign in favour of retaining a political structure all but designed to enable a few rich families to cartelize domestic markets in essential goods and services and thus leech off the general population.  It's double-standards for parasites.  Infect a handful of anorexics, and officials hurl abuse at you for causing vomiting, diarrhea, malnutrition and pancreatic duct obstruction; screw the whole community through padded power, grocery, transport and housing bills, and they give you functional constituencies.
*Or 25% or something – a lot, anyway.