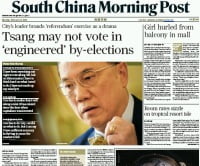 The Standard's lead story today is about the woman who hurled herself and her four-year-old child from the seventh level of a shopping mall.  Among other things, the tragedy appears to be yet another unambiguous thumbs-down for Hong Kong's local education system.  The South China Morning Post shoves the gore to one side and reports that Chief Executive Donald Tsang is agonizing over whether to vote in the Great By-Election Referendum Uprising Saga of 2010.  With Beijing's local agents organizing a United Front boycott and establishment tut-tutting campaign – even General Chamber of Commerce chairman Andrew Brandler has been enlisted to whine about how horrid it all is – it is hard to see Sir Bow-Tie exercising his democratic right on this occasion.  But if he declares that he won't vote, how many people will be spurred into going along to the polling station just to show what they think of him?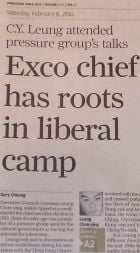 Of more interest was the SCMP's front page on Saturday, which breathlessly reported a story that is… 30 years old.  Leung Chun-ying, Executive Council member and over-eager aspirant to succeed Donald, was a member of the Hong Kong Observers back in the late 1970s and early 80s.  This has been common knowledge ever since anyone got to hear of Leung; nor is it remotely surprising, unless viewed through a very narrow contemporary lens.
The Observers were not exactly the post-80s generation of their time.  It was a colonial era when the patriotic, pro-Beijing camp was a tiny, self-contained, almost-criminalized group of extremists shunned by apolitical mainstream society, rejected by most employers and harassed by security agencies.  Outside of that circle, there was no real divide between pro- and anti-establishment, at least as we now know it.  The young professionals who formed what was essentially a discussion group about Hong Kong's future were daring, perhaps, just for gathering, but hardly radical.
Like the group Meeting Point, formed by ex-students, the middle-class Observers included not only figures who went on to become pro-dems but future conservatives, including more than one Executive Council member.  This milieu of early civic awareness included future Liberal Party founders Selina Chow and Allen Lee, not to mention current CY Leung supporter and rabid scourge of dissidents, columnist Lau Nai-keung.  Why doesn't the SCMP mention this?  Because the idea is to burnish CY Leung's credentials as a progressive man of the people.
And why would the SCMP want to do that? To put it another way: who put that story on the front page?  Robert Kuok, who owns the SCMP is not really a Leung sort of guy; the tycoons, especially those with property interests, do not like CY one bit.  Maybe the younger Kuoks are getting friendly just in case Beijing makes him, rather than blue-blood Henry Tang, the next CE.  Maybe the SCMP's editor has a soft spot for CY.  Maybe CY's people got to the reporter who wrote the story, and his bosses ran with it because there was nothing else going on.  The point is, the 'story' is there because someone wanted it there.
At least they didn't claim it was an exclusive.