There was a time in colonial Hong Kong when the opening of the new Legislative Council in early October was a moderately grand ceremonial affair restricted to the great and good.  The highlight would be the governor's speech outlining the administration's plans for the year ahead: bold visions of hundreds of thousands of desperately needed new homes, increases in college places or expansion of public transport.  The people weren't consulted, nor did they expect to be.
Nowadays, it's almost the other way round.  The show is more inclusive, with officials soliciting input from the public ahead of time, and directly elected lawmakers sitting in the council chamber as the chief executive delivers his widely promoted Policy Address.  Yet the substance has mysteriously evaporated.  Big projects are announced, but they have taken on an unthinking, automatic quality: infrastructure that isn't needed, loopy new industries that won't work, year after year.  They are space-fillers – something to occupy the vacuum of ideas.  When Donald Tsang stands at the lectern in Legco tomorrow morning, he will be performing a tired, empty ritual.  If anyone tunes in, it will be to hear what radical legislators shout at him.
The most important question is: what colour will the Policy Address booklet be?  A deep golden yellow, to signify hope for the future; a fetching turquoise, to symbolize confidence in the years ahead; or a bold pinkish chartreuse, to represent the prosperity and success that undoubtedly lie before us?
Then there is the title.  Will Donald go for a drawn-out, hand-wringing study in good intentions like his predecessor Tung Chee-hwa, who gave us Quality People, Quality Home: Positioning Hong Kong for the 21st Century (1999) and Working Together for Economic Development and Social Harmony (2004)?  Or will he stick with his pithy jokes, like Strong Governance for the People (2005) or A New Direction for Hong Kong (2007)?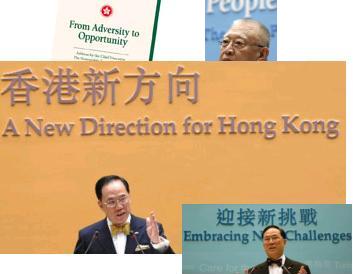 As for the content, there will be a prize for the first person to spot a new policy.  Ones announced long ago – from competition laws to health care reform – are piled up in the backroom gathering dust.  Constitutional reform proposals have actually become dust, safely swept under a carpet.  We must focus on the economy.
Handouts to the common citizenry are out, anonymous officials advise, even though subsidizing everyone's electricity bills was a neat distraction.  This year, we will instead be offering support for six new priority industries in which the Big Lychee has no competitive advantage: education, health care, product testing, creative whatever, and the two we can never remember.  Also known as 'giving land away to people we like'.  And then of course there will be the same old endless infrastructure, infrastructure and more infrastructure.
The government needs to throw something to all those bores who write into the South China Morning Post complaining about overdevelopment, pollution and all that stuff.  Licking my finger and raising it in the air, I detect a breeze blowing in the direction of… Heritage.  Let's surprise them with a few vaguely imaginative and cool things to do with old buildings.
For a flavour of what will not appear in the Policy Address, we can always look at the responses officials received after they asked the public for suggestions.  Several groups produce quite detailed alternative agendas; bureaucrats pinch their noses and transfer them quickly by the fingertips to the paper-recycling box.  The Democratic Party was criticized one year for publishing theirs in Chinese only; perhaps this year they will spare a billion potential readers and do it in Manx.  The Professional Commons – the group that has endeared itself so much to our leaders by finding a way to avoid spending HK$1.5 billion a kilometer on a rail line – has produced a paper packed with wit: impertinent questions about how much government expects the six new industries to contribute to GDP, and a humble proposal (p.8-9) to bust the property cartel.
The ritual will continue.  Sir Bow-Tie will appear on radio phone-in shows to hear the public whining about having to pay all their electricity bills themselves.  A few weeks later, Legco will debate a motion of thanks, in which loyal lawmakers voice support for the latest industry officials have decided we must have, and opponents lament the lack of a timetable for universal suffrage.  And in the design section of the government printing office, creative civil servants will start work on the colour scheme for next year.