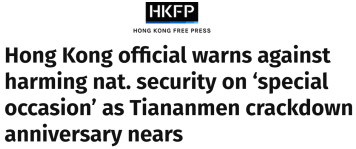 The Security Secretary talks about fourth day of the sixth month of the Gregorian calendar, without actually mentioning the date or its significance…
Authorities will take action against people who plan to harm national security on "a special occasion in a few days time," Hong Kong's security chief has said. Sunday will mark the 34th anniversary of the Tiananmen crackdown.

Secretary for Security Chris Tang did not specify which "special occasion" he was referring to while speaking to reporters on Monday, but said "many people" would use the occasion to endanger national security.

"It will be a special occasion in a few days' time, many people will use this special occasion to commit acts endangering national security, such as promoting Hong Kong independence and intending to commit subversion," Tang said, without naming any individuals or groups.

"However, I want to tell these people that if you commit these acts, we will definitely take decisive action and arrest you, and will prosecute you if there is evidence. You will not get lucky," the security chief added.
Is he talking about lighting candles in parks?
Some mid-week links. Probably not much happening here for the next couple of days, so back Thursday or Friday…
Protest-era chronicler Kong Tsung-gan (who became the subject of a frenzy of righteous mouth-frothing a while back, for some forgettable reason or other) has compiled the stories of dozens of people who have left Hong Kong…
What has been occurring in HK over the past year and more is nothing less than the relentless dismantling of a liberal society, a spectacle encountered not all that often in this day and age. It's like watching in fast motion a film played backwards — all of things that once were built up are now smashed, destroyed, undone.
The Diplomat on Beijing's confusion of 'de-risking' with containment…
Europe has ample justification for reducing its reliance on Chinese supplies out of self-defense, even completely absent any interest in suppressing China's economic development. China's inability to see the difference between "containment" and "de-risking" is a side effect of its refusal to engage in the introspection of its own behavior, which would be a necessary step toward remolding European policies.
The Economist (paywalled) on Beijing's hostility towards gay rights activists.
For the same message is delivered, time and again, whenever policemen question gay-rights advocates (and sometimes their family members). It is heard when university chiefs punish students for handing out rainbow flags, or when officials press landlords to evict non-profit groups. The message is that sexual minorities pose a political risk. True, some officials and state-backed scholars also call same-sex love an affront to mainstream Chinese morality, and a threat to young people whose patriotic duty is to marry and have more babies for the Motherland. But activists report that, during interrogations, national security is emphasised much more than morality. Despite the political chill, gay people (as well as bars and dating apps) enjoy far more tolerance than they did a generation ago—but only if they keep it quiet. In today's China, forming a community is a graver offence than being gay.

…gay groups, feminists, labour activists and ethnic minorities are all treated as potential tools of subversion by a hostile West. In Mr Xi's China, the marginalised represent a security threat…
This probably partly explains the Hong Kong government's lack of enthusiasm for the forthcoming Gay Games – along with squeamishness among puritanical bureaucrats and opportunistic anti-Western agitation among pro-Beijing figures.
Are we discussing 'civilizational warfare'? We are now. An anti-'woke' outlet compares US and Chinese regulation of culturally ruinous social media platforms…
Western TikTok is dominated by moronic clips of teenage girls gyrating and lip-synching to strange and repetitive noises purporting to be music, dangerous juvenile challenges, like swallowing excess Benadryl and then filming your consequent hallucinations, licking toilets, eating cereal from other people's mouths with a spoon or wetting yourself on-film, alongside indoctrination via self-made propaganda shorts for causes like Black Lives Matter, climate change and transgenderism.
Michael Turton on Beijing's designs on Taiwan…
One of the ways that pro-People's Republic of China (PRC) peaceniks forward PRC propaganda is by presenting its fabricated history of the Taiwan-China relationship as accepted, mainstream history. Like the faces of astronauts on rocket sleds reshaped by high GEE effects, every conversation about Taiwan is distorted by this stream of effluent.
As Hong Kong prepares its own 'false news' laws, Asia Sentinel responds to a Singapore government demand, under its Protection from Online Falsehoods and Manipulation Act of 2019, to 'correct' a story. In brief: nope.