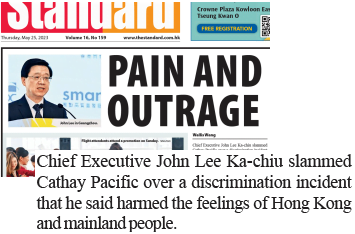 In principle, a cross-border system for organ donations makes excellent sense. Cathay cabin crew should be disciplined for being snotty towards passengers of particular backgrounds. And we should all behave decently to visitors. But do senior government officials have to get so personally outraged?
The Chief Executive blasts people who cancel their organ-donation registration…
"I severely condemn those who attempt to cause damage to this noble system which saves lives through organ donations," he said. "This is a shameful act."
And he 'expresses deep disappointment and indignation over claims of discrimination against Cathay Pacific passengers who don't speak English'…
"These disrespectful remarks and actions have hurt the feelings of both Hong Kong and mainland compatriots, and damaged Hong Kong's reputation for being respectful, courteous and inclusive.

"These vile remarks and actions happened on a Hong Kong flight. I feel deeply indignant and disappointed."
The tourism minister stresses that 'every Hongkonger must work to welcome tourists'.
Will such high-level alarm reduce the gap between what some Hongkongers feel about the Mainland/Mainlanders and what the authorities believe they should feel? A People's Daily WeChat account also wades in…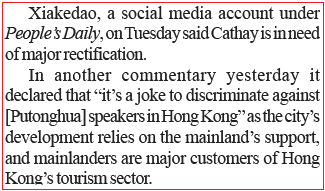 A little light reading for the long weekend…
A slightly bold Standard editorial on censorship of library books.
Bloomberg on the impact of China's security clampdown on expert business consulting networks…
At stake is China's ability to lure the foreign capital needed to finance its economic growth. Foreign direct investment tumbled by the most in more than six years in the first three months of this year, while the nation's stock and bond markets have seen steady outflows. Underscoring the urgency, China's ruling Politburo last month called for greater efforts to boost foreign investment. The commerce ministry has dubbed 2023 the "Year of Investing in China."

Even as China tries to attract investors, "it fears a loss of control over the information about firms that is passed to foreigners," said George Magnus, an economist and associate at the University of Oxford China Centre. "This type of action will simply add fuel to the decoupling momentum that we can already see."
You thought they just plodded around Samoa? An anthropologist does an Amazon warehouse.