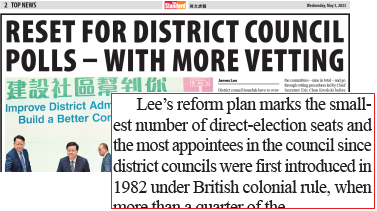 The government announces its plan to 'improve governance at district level'. HKFP report. Essentially, District Councils will follow the pattern of the new-look legislature, with most members being in practice appointed by the authorities – so the bodies will represent the government rather than the public.
As with LegCo, access to the small number of seats to be directly elected will be elaborately controlled via candidate-screening mechanisms. As with LegCo, the system has enough overkill built into it to ensure that few, if any, non-establishment figures at all will get seats. (Also, the councils' powers will be reduced, civil servants will chair the councils, and the bodies will come under government committees. As with LegCo, generous remuneration for members remains.) It will be interesting to see how many voters turn out later this year.
This raises a basic question of how the government intends to monitor public opinion in an era of all-patriots councils, no protests, opponents in jail, a docile civil society and a largely compliant media. Perhaps the principle now is that the authorities decide public opinion and then pass it down ('engineering the human soul', etc).
Global Times says…
The restructured District Council will assist the government and enable the government plan regional services more effectively, and unite the people while providing consultation and referral services to residents in the area.
Note the contrast between today's official description of the 2019 protests versus those of the time. (For more revisionism – eg about pre-1997 District Councils – see the CE's responses to questions.)
Maybe you can't get onto a District Council – but joining the police has become easier…
Being tall, bilingual and with good eyesight are no longer a must for Asia's finest as the police force eases requirements beginning Friday in an attempt to fill a staggering 5,000 vacancies.