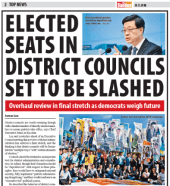 The Hong Kong authorities are set to relaunch all-patriot District Councils. There will be elections for them. But actually, not much…
DAB lawmaker Holden Chow echoed Lau's views, saying a screening mechanism is needed to make sure people joining district councils are genuine patriots.

Chow said people should not focus too much on how many directly elected members there are.

"You see from the example of the Legislative Council, we have a new election method. We have members elected in the geographical seats. We have also members elected from the Election Committee," he said.

"So these members are supposed to avoid populism and they can actually consider the general interests of Hong Kong."
Hong Kong's last open universal-suffrage elections – anyone meeting basic age and residency qualifications could run and/or vote – were for the District Councils in late 2019. Voter turnout was an unprecedented 71%, and pan-democrats scooped up 388 of the 452 seats up for grabs. It was a vivid rejection of the pro-government/Beijing camp, and under the NatSec system it will not be allowed to happen again.
The Standard story mentions the official line on what happened to DCs since 2019…
Lau Siu-kai, a consultant for pro-Beijing think tank the Chinese Association of Hong Kong and Macau Studies, said…

"The district councils were dominated by the opposition bloc in the past, which turned the councils into a forum for political struggle a venue for 'Hong Kong independence' and foreign forces," he said, and that was "a serious deviation from the Basic Law."
Which brings us to Louisa Lim in the NYT on Hong Kong's editing of the past…
Words are used as weapons, and in Hong Kong the repeated use of the word "riot" obliterates one version of the past — that many protests were peaceful — while creating a retrospective alternate reality that serves the politics of the present.
Some mid-week links…
Columbia Journalism Review on Hong Kong's independent media, including HK Court News…
By directly transcribing what happens at hearings, they felt, they could reflect Hong Kong's harsh political realities without being accused of bias. There has been no shortage of cases; every evening after the staff have gone home, they screen Hong Kong's court listings and confer, over group chat, about what to cover the next day. "We try not to miss any trial that is of public interest," Cheung said.
The China Project examines how much China's foreign policy and diplomats are encouraging international support for Taiwan…
In a span of one week, Chinese diplomats threatened 150,000 Filipinos working overseas, got into a quickly spiraling spat with South Korea, and openly questioned the statehood of the 14 former Soviet countries. The common thread between these three episodes is the Chinese Communist Party's holy grail and bête noir: Taiwan.
UK Transparency asks: are Confucius Institutes legal?