It's been 18.5 months since I was last out of Hong Kong, and over six weeks since my second – but to the government, apparently pointless – vaccination. So on another 'staycation' for the next few days. Some artisanal hand-curated links for the gentry…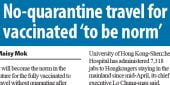 An HKFP op-ed argues that we should not always blame Hong Kong judges for the Justice Dept's vindictive prosecuting work. (But surely judges are supposed to protect citizens from just such abuses of government power, and often mysteriously don't – so are they not culpable?)
From hkcnews.com, English-language mega-graphics explaining the events of June 12 and July 21, 2019.
In the Guardian, an academic explains how the CCP went from all lovey-dovey to ultra-oppressive towards ethnic minorities…
Three reasons, primarily: growing inequality, the forces unleashed by China's experiment with capitalism, and the rise of ethnic scapegoating, fuelled by rampant Han Chinese resentment.
The Diplomat asks whether Taiwan was ever a part of China…
The ROC … successfully continued Taiwan's condition of political separation from China, a fact that has been in existence now for almost all of the past 126 years, and it has maintained full sovereignty for about seven decades. Chinese insistence on the idea of Taiwan as a part of China has failed to convince the roughly 23 million Taiwanese.
…Chinese views have been much more effective in shaping international opinion, but they do not change Taiwan's modern history or the reality that Taiwan is a country. Individuals, countries, and companies can make their own choices about how to interact with China and its citizens, but they should do so with an accurate understanding of the underlying history.
A useful reminder from American Taiwan blogger Lao Ren Cha on why Beijing will not attack because someone 'provoked' it, but because it simply decides to. And another on why Taiwan's attempts to get vaccines do not 'inflame tensions'.
Michael Cole on China's quandary as other countries give more recognition to, or develop relations with, Taiwan (eg by supplying vaccines)…
The regime in Beijing, which continues its effort to isolate Taiwan internationally, is now in the difficult position of having to express its discontent over these developments while avoiding overreaction that could create the rationale for even closer relations between Taiwan and other countries…
…it is conceivable that Xi Jinping could call for a more confrontational stance in the coming weeks and months, aimed principally at Taiwan, not so much as a signal of a new policy or preparation for war, but rather as a way to appease an angry public.  
On out-of-area affairs – who can resist some cryptocurrency weirdness? A few worthwhile articles on the El Salvador regime's wacky Bitcoin-as-legal-tender idea: the essential David Gerard, a quick Doomberg explainer, and a (perhaps more technical) thread. These spare you the powered-by-volcanoes angle.