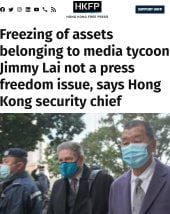 Hong Kong's security minister John Lee tries to make the freezing of Jimmy Lai's assets sound normal – nothing to do with press freedom, and purely aimed at preventing heinous crimes and threats to national security. (Apple Daily looks at the legal side of asset-freezing here.)
It doesn't help that Lee is an ex-police officer. Anyone who watched HK Police press conferences back in 2019 will recall how cop-spokespersons always found it utterly bewildering that some among their audience might not believe their often-idiotic lies and drivel ('reasonable force', 'yellow object', etc).
Commissioner Chris Tang takes a relatively more sophisticated approach. Rather than assume that everyone will automatically accept what he says as the truth, he implicitly threatens to arrest reporters who don't.
The police are not the only branch of government in decline these days. Could slime mould do a better job than Hong Kong's transport planners? Stupid question, I guess.