Apple Daily (Chinese) reports that the new 'Red' RTHK is deleting much of its older content from the Internet – presumably an attempt to cover up the fact that they used to do quality independent programming. "We have always followed the patriotic line and never ever interviewed any pan-dems – indeed, what's a pan-dem?"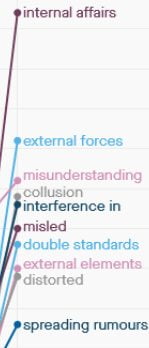 Fast-forward three years: the entire official RTHK archives comprise 9,000 hours of the Carrie Lam Weekly Today Show This Hour. Plus some Ronny Tong calling for a government unit to fight fake news (link via Jerry C's comment here).
And yes, someone has backed them all up. (Can someone do the same for all the hilariously sarcastic headlines and Tweets from RTHK English?)
Some slightly amusing media-related snippets to start the week… 
The US cartoonist whose work was plagiarized (badly) for a Hong Kong NatSec-compliant textbook is not happy about it.
A former Registrar of Companies criticizes the government's plans to allow company directors to obscure their identities and contact details.
And for statistics fans, a graph showing the frequency of certain phrases in Hong Kong government press releases in recent years. Usage of all your favourite panty-wetting words are here – 'so-called', 'internal affairs', 'foreign forces', etc – has shot up.