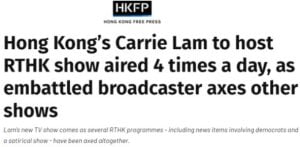 RTHK looks for fresh new patriotic talent to replace the ideologically unacceptable old-style journalists with their boring insistence on factual and even critical content. The broadcaster's latest recruit is renowned liberal Carrie Lam, who will present the Carrie Lam Daily Show, starring charismatic Carrie Lam hosting a wide range of interesting and exciting guests in the studio – including friends from the Toilet Paper Retail and other Election Committee sub-sectors. 
Among the topics under discussion: Belt and Road Opportunities, Bay Area Opportunities, housekeeping tips on how to improve your election system, and recipes for authentic traditional organic artisanal Hainan chicken rice, as passed down by generations of happy smiling poultry-loving Hainanese from the tropical island paradise of palm-fringed golf-courses, sun-kissed duty-free outlets, and boundless opportunities for our city's youth. The first episode will also feature a highly meaningful National Security quiz with prizes of souvenir Octopus cards (with instructions on how to use them).
This is part of RTHK's new commitment to 'equal time' – guaranteeing viewers equal amounts of Carrie Lam whether they tune in at midnight, dawn or noon.
Update: an audio feed of the rolling, non-stop, on-the-hour-every-hour, seven-days-a-week Carrie Lam In Your Face Every Day Show will also replace station announcements on the MTR and the 'Yuu' jingle in Wellcome supermarkets.