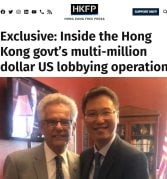 A good piece of investigative reporting from HKFP on the effort and money – HK$84 million – the Hong Kong Trade Development Council spent over several years lobbying US politicians to vote against the Hong Kong Human Rights and Democracy Act. If anyone else did it, it would be collusion with foreign powers or meddling in internal affairs. The campaign, of course, failed. Here's the intro, and here's the full story.
(That reminds me – how's the HK government's PR agency getting on?)
Even the SCMP is doing some investigative work: directors of Mainland bodies that now have corporate votes in Hong Kong 'elections' aren't Hong Kong ID holders. OK, not exactly a surprise.
The NatSec horrors continue to bubble away. Apple Daily responds forthrightly to the Police Commissioner. 
Like nearly all pan-dem figures, Tanya Chan is on the CCP's put-in-jail list. Best the police/prosecutors could manage was a social-distancing rap. Looks like a mess so far.
And People's Daily announces the next target: student unions.
Every week, I hope nothing will happen for a few days, so just some links will do until Friday. Here goes…
One interesting side-effect of Covid: migrant domestic workers have middle-class Hongkongers by the balls. More pay or wash your own dishes.
The director of Do Not Split – Oscars-nominated low-budget 2019 uprising documentary – thanks Beijing for all the free publicity. CCP = Commie Cinema Promotion. 
In case you're not already thinking of leaving Hong Kong – psychopath transport planners believe the solution to rising car numbers is more roads and parking spaces.
Why is it taking so long for the Catholics to get a bishop for Hong Kong? Could it be the church is torn between looking after its flock and kowtowing to the Communists? Yes it could.
A video of a composed Nathan Law versus a ranting pro-Beijing ogre on a BBC talk show. Nathan adds…
Civility vs barbarity — that's the difference between democracy and autocracy. 
Human Rights Watch's new report on China's human-rights violations against Uighurs and Kazaks (press release on report here).
An informed response to a recent SCMP op-ed whitewashing Beijing's policies in Xinjiang.
Former Premier Wen Jiabao gets censored. The chatter now is that he or some Wen else (haha) might be on the verge of a purge.
The Jamestown Foundation on Beijing state media's infiltration of Western newspapers and online.
Hungary's plans to blow a huge amount of money on a Chinese university.
For a glimpse of how things can be without a police-state/dictatorship – private-public partnerships in the conservation of historic buildings in Taiwan (with great photos).
China-related links fans will like this – a newsletter full of them.