We know Beijing won't allow representative government in Hong Kong, and it will continue to tighten its control of schools, the media, courts and civil society in order to eradicate opposition and criticism. But what then?
An HKFP op-ed on how the CCP will select and manage the large number of new shoe-shiners and loyalists coming into the establishment. While many of these people will occupy ceremonial rubber-stamp posts, some will gradually replace senior civil servants and others in decision-making positions. And behind the scenes of course…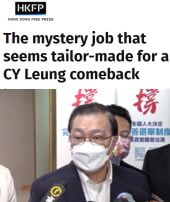 …real power in Hong Kong resides less with the chief convener or the chief executive, than with our party secretary, Luo Huining, and party central in Beijing.
'Chief convener' is a mystery job that I would call 'chief conveyor', as it will obviously be a channel for CCP edicts.
(Author Prof Burns has studied this for ages – see a 1987 article on China's nomenklatura.)
And what will the new style of administration do in terms of policy? A (Chinese) article in Stand News describes an internal discussion paper by the newish pro-Beijing/Beijing-backed Bauhinia Party on Hong Kong housing. It might have been drafted and leaked deliberately, maybe in order to soften up vested interests. It certainly has something to upset different segments of the city's traditional establishment.
It refers to the housing situation in terms of a threat to 'One Country' (implying that it encourages secessionist sentiment). The paper suggests an expansion of affordable housing that could only be achieved by using land held by private interests, notably developers – and while it doesn't mention expropriation, it does maintain that the central government has a right to play a role in deciding land use in Hong Kong. (This would be in flagrant violation of Basic Law protection of private property, so all-too believable,) The paper also – intriguingly – blames bureaucrats for putting high land-prices first in order to protect their lavish pay and pensions. Almost starting to like these guys.
Still, it's hardly worth sticking around for. The UK is not famed for encouraging immigration, but is now funding assistance for Hongkongers settling in the country, and almost bending over backwards to get them to come. This is probably cynical, though you could see a noble gesture by the kids of East African Asian refugees who make up much of the Conservative government cabinet. (OK, it's cynical.) Worth every penny just for the inevitable outraged ranting from Beijing officials.
Mouth-frothing about Britain laying out the welcome mat is also forthcoming from retired HK Police, like the one who wrote a nasty email to the Hongkongers in Britain organization. He (an expat, it seems) accused the exiles of not working and/or taking other people's jobs, and particularly mentioned – slandered – Simon Cheng, the UK consulate staffer arrested by Mainland security. We are assuming this former Superintendent is real: the ''Flying Kukris Rugby Football Club Girls Section committee member' sounds like a parody.