Continuing: show-trial hearings of 47 Hong Kong politicians arrested for planning to win an election and now in jail without being found guilty of anything. Among the 47 is Carol Ng, local British Airways union leader. Haven't the CCP heard about the perils of messing with cabin crew?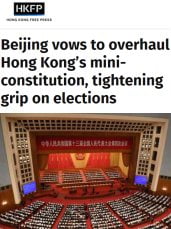 We also have Beijing's 'improvements' to Hong Kong's election system. The two are related. After pan-dems swept last year's District Council poll – inspiring the 47's plans – the CCP gave up hope that Hongkongers will vote democratically for parties that are… anti-democracy. From now on, voters will be limited to only Beijing-approved candidates.
Under the 'executive-led' system, elections and elected bodies have little or no material impact on who holds actual political power. However, the process bestows some moral legitimacy on the pan-dems who win – and the CCP simply can't handle it.
Official explanation here. Reports here and here.
Given that so many pan-dems have already been/soon will be disqualified by separate loyalty tests, the 'improvements' look like overkill. Essentially, Beijing will: 1) screen all Legislative Council candidates (via local proxies); and 2) reduce the proportion of seats pan-dems could conceivably win anyway. Why both 1) and 2)? To repeat – these exercises are largely a pretense in terms of affecting who holds political power. We're so paranoid we have to cheat even though we've already rigged everything.
Even today, some commentators seem fascinated by the details of the size, composition and formation method of the election committee and legislature – how many seats there will be and who will be entitled to nominate or elect. But the new-look structures and processes are more meaningless than ever. It's a charade to divert attention from what is really happening: the elimination of the remaining vestiges of separation of powers and the presence of awkward critics or opposition, with wall-to-wall rubber-stamp stooges being put in their place.
For example, one academic taking the structures at face value here naively suggests that further packing the Election Committee with loyalists and small-circle representatives will increase vested interests' influence over the Chief Executive. Well, that would be true if the EC genuinely chose the CE – but it doesn't. The inbuilt majority of the Committee merely rubber-stamps Beijing's decision. And the way things are now, few tycoons or other shoe-shiners would even dare cast a protest vote (assuming the CCP allows an alternative candidate on the ballot). These supposedly elected bodies are simply a parade of puppets and zombies, with no influence over anyone. Speaking of which, nice-but-dim Henry Tang says it's about having more diversity.
The main impacts on real life will be to further enlighten the world about the obsessiveness of this Leninist takeover, and to further piss off an already-angry local populace.
On it goes…
A Bloomberg op-ed on the decline of Hong Kong's legal system…
…the program is to move posthaste toward China's unitary system, where legislators and judges are part of the same grand edifice working toward the same ends under the leadership of the party. 
Yuen Chan in Mekong Review on Hong Kong's waning press freedom, and on RTHK under its new management. (Speaking of RTHK – a bit of nostalgia for the days when Hong Kong was free.)
And of course the CCP are coming for the universities.