This has been a long time coming… The Hong Kong government announces plans to transform RTHK from a public service to a state mouthpiece (story here). It begins by identifying 'problems' (not listening to complaints, management being 'weak') and outlining measures to fix them. The broadcaster's boss has been replaced by a civil servant with no background in media.
We will now wait and see how quickly, and how much, RTHK's reports become rehashed government press releases, quoting pro-Beijing views only – as happened with commercial media years ago.
In other news, the only quotable people will soon be patriots.
The CCP is also preparing to reform (the SCMP says 'ramp up') Hong Kong's political system to ensure that 'only patriots run the city'. But Beijing already has a monopoly of political power here, with the Liaison and NatSec Offices now directly overseeing its appointed local officials (Carrie Lam and her hapless ministers). Partially or wholly elected bodies (the CE Election Committee and Legislative/District Councils) are essentially powerless, mostly gerrymandered and increasingly barred to pro-democrats through loyalty tests. What is the point of rigging elections even more to further reduce pan-dems' chances of winning seats in impotent organs?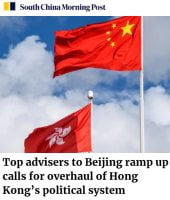 One idea being floated is to split up the current Legislative Council's multi-member constituencies. (Classic changing the rules: single-member constituencies were merged after 1997 in order to boost pro-Beijing parties' success rate.) Another may be to narrow functional constituencies' already-limited electorates. One aim would be to reduce pan-dems' possible participation in the fake, rubber-stamp 'elections' of the Chief Executive. Some pro-Beijing figures are even calling for the quasi-election to be replaced by 'consultations'.
Since the CE 'election' and other representative processes are simply ceremonial, it seems that what Beijing wants to do here is mainly about appearances. But appearances can reflect reality. The most visible problem for Beijing with elections in Hong Kong is that the bulk of the population vote for pan-dems, and this undermines the regime's claims to legitimacy. It is the perennial problem for communists: they can't allow pluralism because they will lose any free contest of ideas.
The remedy will be to portray critics as threats to the nation and eliminate them from any part in the make-believe representative system (perhaps a few stooge 'independent' figures will be allowed to join in). The CCP assumes that once the pro-democrats disappear from view (from RTHK as well as from ballots), public political discourse will range only from the sloganizing of avid shoe-shiners to the rants of mouth-frothing patriot freaks. We will come to forget that alternative views ever existed, and will cherish our right to vote in charade-elections for the anti-democracy candidate of our choice.