AFP reports that the first NatSec case before the Hong Kong courts will not have a jury. There are three grounds for dispensing with a jury in NatSec cases (which are heard by special NatSec judges chosen by the Beijing-appointed government). One is that state secrets would be discussed in court; another is that the trial involves foreign forces.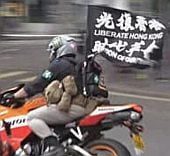 Neither remotely applies in this case: the accused is Tong Ying-kit, who held a 'Liberate Hong Kong' flag ('incitement to secession') while driving his motorbike through a group of cops ('terrorist activities') during the 2019 protests. So that leaves only the third flimsy excuse: the personal safety of jurors and their families. Presumably, this will be the catch-all reason for never having juries – and any risk of their pesky not-guilty verdicts – in NatSec cases (maximum sentences for which are life).
The AFP story ends…
Inside China, criminal courts have no juries, answer to the party and have a near-universal conviction rate.
Also, in political cases on the Mainland, defendants' lawyers are often barred from representing their client and/or subject to intimidation themselves. Only a matter of time before that happens here.
But did anyone seriously imagine the CCP would tolerate a jury? It can't even handle its people discussing sensitive subjects. Only a matter of time…