All (remaining) pan-dem lawmakers plan to quit if Beijing decrees loyalty requirements that would lead to some of them being disqualified (essentially for filibustering). Reports from HK01 (via here) suggest that Beijing officials would be happy to see this happen – in other words, they see ending the symbolic presence of opponents as more important than maintaining a shred of legitimacy for the Legislative Council. A Leninist system cannot accommodate dissenting voices. Presumably, the (mainly pan-dem) District Councils will come in for similar 'loyalty test' purging.
Pan-dem lawmakers have no means to influence the puppet Hong Kong administration through the rigged and weak LegCo. All they have been able to do is use the chamber as a platform for protest, much of which officials portray as childish disruption. It's ironic that the Chinese government has to point a gun at the pan-dem legislators' heads to make them do what they should have done some time ago.
There's also a suggestion that elected pan-dems (through District, LegCo and primary polls) should establish a virtual assembly. Whether it's called a 'discussion forum' or a 'People's Parliament', it would drive the CCP nuts. It will be interesting to see how Beijing officials would stamp it out: through attempts at Internet censorship, by arresting participants for sedition/secession, or whatever.
The US has put sanctions on another four people for their roles in imposing the National Security regime on Hong Kong. Edwina Lau and Steve Li of the NatSec Police find themselves barred from the US, along with two Mainland officials (job titles, etc here).
And local grassroots (or at least woodland) protest continues. This weekend's hike was from Pokfulam Reservoir to Aberdeen (mainly following Section 2 of the Hong Kong Trail). If you keep your eyes peeled, you can spot butterflies, flowers, and quite a range of rebellious slogans. This one (next to a water catchment thing) reads 'Communist bandits' – a phrase dating from the Kuomintang.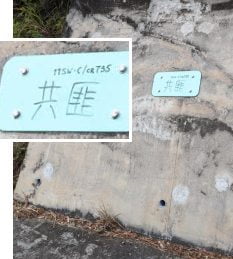 I remember years ago, when Microsoft came up with its first Chinese-language word processing program, Mainland users were shocked to find the phrase in the dictionary/thesaurus (the software had been written in Taiwan).