Some Hong Kong pro-democrats still like to imagine that, even under the Leninist principles of the NatSec Regime, the Legislative Council can be a representative body with at least a little political power. Maybe they will get real after reading that Beijing (via the local puppet government) will further rig the assembly's membership by ramming through new laws to give Hongkongers living over the border a vote (while those elsewhere overseas do not, and nor can anyone use a postal ballot).
This will mobilize maybe another half million votes. This electorate will be in a place where only pro-Beijing parties' workers may canvass (indeed, visit), and we can expect the location of polling stations to suit their needs too (with transport and lunchboxes thrown in). The CCP will also no doubt allocate pliable voters to the constituencies where their votes are most needed. If they want, they can easily just stuff ballot boxes.
This confirms that the CCP is determined to ensure LegCo plays a purely ceremonial rubber-stamp role – though it wants the process to continue to look like a genuine democratic one. It also shows that the pan-dems are wasting their time giving the body legitimacy by staying in it.
Some other things from the weekend…
A pressure group finds strong evidence that New Territories residents are illegally selling archaic ding rights – allowing indiginous males to build a house for personal use – to developers. And pro-Beijing lawyer Junius Ho is upset that his practitioner status in England is under threat. The link between the two stories: Ho does property paperwork in the New Territories.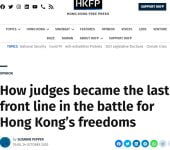 A thread reporting on the on-line rally in support of the HK 12 held in the Mainland.
And HKFP on what the NatSec Regime means in practice as…
…a fascinating  historical replay … of the old-style rectification campaign … after 1949 to dismantle all the old sources of authority and create a new revolutionary order.
Before their 1997 return to Chinese rule, Hongkongers had been promised they would not be subjected to those same kinds of disruptive upheavals. But since June 30, the old urge to try and remake society to Beijing's liking is evident everywhere: in the language of official discourse, the demand for professions of loyalty from civil servants, the scrutiny of candidates for elective office based on past behaviour, and scrutiny based on behaviour while in office. The press, churches, schools, teachers, students – nothing is off limits, no one seems to be exempt. Labeling and targeting are the new norms.
And the independent judiciary is a major target. The key thing to bear in mind about the NatSec Law is that it is not a 'law', but an entire new CCP-run system of government.