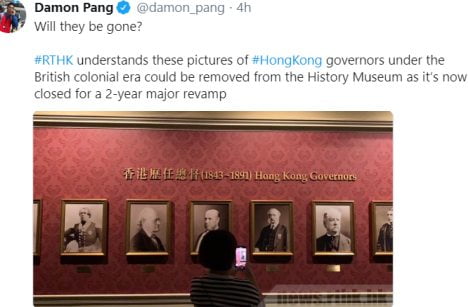 People lined up over the weekend to see the Hong Kong Story exhibition one last time before the Museum of History gives it an 'extensive revamp'. They especially came to photograph the colonial-era displays, on the assumption that items like Governors' portraits will be scrapped in a more Glorious Motherland-themed show when it reopens. (We can be sure the CCP will at least get rid of the flock wallpaper, which looks like something out of a Merchant Ivory set.)
Photos of the photo-takers here, here, here and – singing the anthem – here. Hong Kong's latest contribution to popular political rebellion guerilla techniques: museum visits.
HKFP offers a good summary of the existing exhibition, which – when it opened in 2002 – struck many as downplaying the colonial period and Hong Kong's older claims to a distinct regional culture. Little did they know what 2020 had in store.
The word is that the new-look exhibition will have a bigger focus on the post-1997 period – in other words the many wondrous benefits the city has enjoyed from Beijing's sovereignty. It will also be interesting to see how much other periods from the Bronze Age onwards at The Hong Kong Story are changed in keeping with the CCP's official archaeological and other revisionist and airbrushed treatments of the past.
Also at HKFP, the hounding of Hong Kong's Education Secretary for not being sufficiently rabid about hounding and purging ideologically unreliable teachers, like the one who had a 50-minute lesson plan that mentioned Hong Kong independence…
So here's the deal: if you are a fraudster, a rapist, a murderer or a paedophile, then education officials are happy to leave it up to the school whether it wishes to employ you or not. You may be a religious nut who believes the world is flat or a rightwing fanatic who believes the world is run by a secret global network of Jews … It doesn't matter. You may be registered, and you may stay registered.
Draw up a lesson plan which goes down badly with Ta Kung Pao, on the other hand, and you face banishment for life from the profession.
Asia Sentinel examines a leading instigator of this hounding: ex-Chief Executive CY Leung, whose hobby these days is demanding a new Cultural Revolution on Facebook.
Obviously, loyalists wouldn't indulge in this nasty zealotry if Beijing's officials didn't approve, but it could be they are devoting extra unsolicited witch-hunting effort in the hope for rewards from the CCP…
A comeback to chief executive for CY would have seemed impossible two years ago. But…