Grab some popcorn and take a seat. A badly needed little ray of sunshine in our lives comes courtesy of Disney's Mulan mess. Rarely has Hollywood provided the public with so much amusement for a production budget of just US$200 million. 
First, it has been a magnet for nitpickers. Various pedants have whined that the thing is not historically accurate – in real life the heroine would have been Mongol or Turkic rather than a patriotic Han (though being a legendary figure, she was actually none of these). Another set of bores complain that none of the scriptwriting committee were Chinese 'or Asian' – so are obviously deficient in ancient Oriental wisdom and cultural sensitivities and nuances needed for a kung fu movie for kids. (Disney did, however, share the script with Chinese censors.)
Then the real fun starts.
A global pandemic shut down the entire planet's cinemas.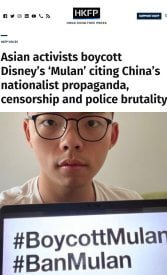 Then gorgeous pouting starlet Liu Yifei (a Mainlander with – obviously – a US passport) prompted calls for a boycott of the movie after voicing support for the HK Police. Co-star Donnie Yen, a Hongkonger, also called protesters terrorists.
Now, alert movie-watchers have noticed that the film was shot in scenic wonders not far from detention camps in Xinjiang, and that in the credits Disney thanks the friendly and helpful Public Security Bureau in Turpan – the authorities accused of various genocide-type human-rights abuses. The boycott campaign suddenly gets much bigger.
At least Mainlanders will line up to see it, right? Maybe not. The SCMP says it's likely to bomb in China – and who are we to doubt Jack Ma's organ? Apparently, the film is hackneyed and has weak characters (unlike every other Hollywood movie of the last 50 years). And in an insult to Chinese culture, it treats qi as magic (at least Disney got the science right).
The virus outbreak is obviously unfortunate timing. But then so is the whole project.
I would guess that from initial brainstorming concept to release, a blockbuster takes, what – four or five years to make? So when Disney set out on rehashing its (reportedly fun) animated Mulan as a live-action special-effects extravaganza, China was still the hip and trendy, warm and cuddly emerging superpower we all fondly recall. Studio execs would have safely assumed that wowing Western audiences with a picture calculated to shoe-shine Beijing would have been politically (notwithstanding commercially) feasible.  
Instead, under Xi Jinping, China's international standing has turned sour thanks to trade, tech, heavy-handed influence operations, wolf-warrior diplomats, Hong Kong, Indian border, Australia, Trump, South China Sea, kidnapped Canadians – and of course, the Uighur oppression. The backlash over the latter now extending to cotton and tomatoes. CCP influence over Hollywood has itself become an issue.
The moral of Mulan is that corporate kowtowing to Beijing has gone from being smart to dumb in less time than it takes to make a movie.