Beijing now equates the belief that Hong Kong has separation of powers with the promotion of independence. The line is that it was never even there in the first place, and people saying otherwise are attempting to change the constitutional order…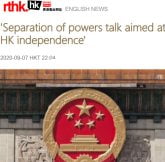 HKMAO said some people in Hong Kong are "trying to confuse the public" by advocating the concept of a separation of powers, adding that their intention is to expand the power of the legislature and the judiciary, undermine the authority of the Chief Executive, reject Beijing's comprehensive jurisdiction over the SAR, and turn Hong Kong into an independent political entity.
Will talk of 'separation of powers' now join slogans like 'Kwong Fuk Heung Gong', 'Hong Kong Independence' or the sung lyrics to Glory to Hong Kong as forbidden speech? To find out, keep an eye on Michael Davies, who says Carrie Lam's argument denying we have separation of powers 'unwittingly' confirmed that we do. His reasoning assumes that the government is subject to the law. The thought-crime enforcers might go easy on him for this faulty logic.
But definitely watch Neville Sarony QC. In EJ, he gives Henry Litton's pro-CCP anti-judiciary comments a good mauling, referring to 'all Hong Kong's air-head communist lawyers rushing round screaming that there is no such thing as a separation of powers in Hong Kong' and using delightfully rude phrases like 'predigested propagandist blather' and 'insidious little rant'. Why can't more members of the legal profession write like this?