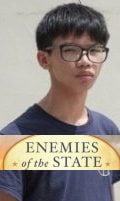 Hong Kong can finally look other banana-republic police states in the face – its new national security cops have successfully performed their very first 'midnight knock at the door' arrests, complete with bundling people into unmarked cars under cover of darkness. The targets are four, mostly teenage, members of Student Localism. (Whaddya mean, who?) The regime has now captured 16- and 19-year-old threats to national security, to go with the schoolkids-singing-a-song threat to national security, the blank sheet of paper threat to national security, and the half-dozen-word slogan threat to national security.
According to the SCMP report…
In a late night press conference, Senior Superintendent Steve Li Kwai-wah of the National Security Department under the police force said the suspects' group had recently declared the establishment of a body to promote pro-independence political ideals "using any means possible" and build a "Republic of Hong Kong".
In plain English, these youthful enemies of the state (or more likely someone overseas) made a Facebook post.
It looks like a case of desperately over-eager police trying to please their CCP masters. But maybe this is the CCP's own idea of striking hard against an attempt to split a country of 1.4 billion. Whatever happens to them, Hong Kong's status as a vicious and cruddy dictatorship is assured.
Meanwhile, the local administration fights the Covid outbreak by making construction workers, cleaners and others eat while squatting in bus stations and on sidewalks. The officials behind this are the same ones who are allowing public transport operators to reduce services – that is, increase crowding on buses and trains. (Similar deal with Post Office opening hours.)

Moderate folk assume Carrie Lam is deliberately trying to encourage the outbreak in order to justify repression of protests. The conspiracy theorists think she's just trying to kill us all.
Churches and small businesses are offering space for people to eat in. The government is responding by opening its hot-weather night-shelters, which being air-conditioned halls equipped with tables and chairs, can serve as non-restaurant restaurants – almost as if actual restaurants had been allowed to stay open.
Another conspiracy theory is that the government is attempting to drive the whole population insane with its stupidity.