Further to SCMP going behind a paywall… I know journalism isn't free. But I'm never going to read more than roughly 5-10% of any publication's content, so I don't get great value for money from most subscriptions. And paying for every worthwhile source (FT, WSJ, Bloomberg, Economist, Apple Daily, NYT, New Yorker, Atlantic, Quartz and a dozen or so more) wouldn't just become expensive – it would be a mess of different accounts (and don't get me started on the passwords). If you could buy one-stop access to a bundle of chosen sites and get billed just for content you want (no sports/fashion/celebs/Alex Lo) with just one monthly payment (flat rate or metering system) I'd do it. US$50-100 a month? Maybe media groups are too proud or, more likely, jealous of revenue to cooperate. Or perhaps the monetizing disintermediating aggregating app-creating geniuses of the tech world are too busy pushing bluetooth-enabled Internet-linked smart toasters.
I declare Tuesday open with some (free-to-read) links…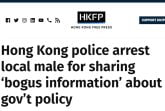 While the government continues its disqualification inquisition to keep pro-dems off the ballot, some decidedly scummy Beijing loyalists try to get Benny Tai fired from HKU. Jerome Cohen says this. (The cops are also now arresting people for spoof DAB posters. Since false information about government policy is now a crime, I will play safe and stick rigidly to stating the indisputable fact that government policy is mostly total crap.)
Antony Dapiran's latest newsletter – on the NatSec Law.
This is as close as Reuters gets to tear-jerking – the story of newly-wed first-aiders Henry Tong and Elaine To, who faced multi-year prison sentences until being cleared of riot charges by an unusual judge who believes in the presumption of innocence.
Richard McGregor at Lowy Institute: How China's deep state with wartime-style powers both plunged the country into the Covid crisis and ruthlessly suppressed the pandemic.
The Dummy's Guide to the same subject from the Guardian (reporting a BBC documentary).
War on the Rocks goes over the options for countering China in the South China Sea. And John Oliver does Uighurs.
China Media Project gets heavily into the importance of wording in the imperial court. In CCP-speak, the shortening of long-winded titles denotes a raising of their stature. Thus it will be a momentous occasion when 'Xi Jinping Thought on Socialism with Chinese Characteristics for the New Era' becomes plain 'Xi Jinping Thought' – but it hasn't happened yet. Managers of the personality cult have been too hasty in trying to elevate variants of Xi Thought (on education, the press, Taiwan and much more) and in some cases had to disabbreviate the slogans. Now Foreign Minister Wang Yo is tentatively trimming 'Xi Jinping Thought on Diplomacy with Chinese Characteristics for the New Era'. CMP's survey of the process is so thorough it even includes bar charts on media usage of the buzzwords. Worth reading as a reminder of the inanity of the CCP.
For economics geeks, Michael Pettis on how China's national accounts exaggerate GDP and why the country needs to upgrade political, legal and other institutions – rather than inputs like labour, capital and technology – to raise productivity. The CCP can't make these reforms without losing control. That said, few other developing countries have ever managed to escape the 'middle income trap' either.
Know your China-bores, courtesy of the Miss Manners of Sinology: the Mystic China-Knowers, the Death-to-the-CCP Squad, the tankies and the exceptionally annoying CCP bootlickers…
…who are usually avid proponents of China's 5,000 years of history. Maybe this Radii China article would enlighten them. (In brief: some 3,500 years of recorded/non-mythological history are real, the 'China' isn't.)
SupChina explains why that bus driver in Guizhou deliberately drove into a reservoir and killed 20 passengers.
Wired on Audrey Tang, software/open-data geek and Taiwan's youngest-ever minister who played a key role in fighting Covid and is working on using digital tech to reinvent democracy. Compare and contrast with Hong Kong's tech bureaucrats.