Is it Friday? One of the strange things about retirement is that you don't track these things.
Your weekend treat: a juicy PRovoke piece on the Hong Kong government's new PR company, Consulum. Reading between the lines, it seems the firm lives largely off its Saudi government account. It is also extremely secretive, in an industry whose practitioners are nowadays increasingly aware of the need for transparency and ethics in general. (You learn something new every time you read this mag.) Consulum – a PR company, remember – makes a point of not answering reporters' questions.
Hong Kong needed a PR agency far more than a PR firm needed Hong Kong.
…If Hong Kong really wanted to build a more positive narrative, hiring a firm that carried [Consulum's] kind of baggage … seemed like an odd way of going about it. 
One communications guy says… 
"…by selecting Consulum, the Hong Kong government has indicated it's in the same boat as Saudi Arabia, Djibouti and Bahrain…"
Reuters on the Hong Kong Police under Commissioner Chris Tang. Shortly to be re-titled Commissar. Some more about his New Territories connections might have been interesting, but we understand. I've said it before: prepare for him to be Chief Executive (not that it matters who sits in that chair).
Times Higher Education on academics avoiding Hong Kong quoting Steve Tsang of the SOAS China Institute…
"This law is extraterritorial, which means it applies to anyone writing about China, whether they are in Hong Kong or London," said Professor Tsang, who added that he would no longer feel safe travelling to Hong Kong. "I would absolutely consider it a risk," he said.
While Professor Tsang maintained that his academic output on China was "critical commentary" as opposed to "advocacy", which could be prosecuted under the new law, he said he was not confident that Chinese authorities would see the situation in the same way.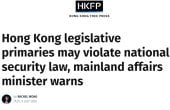 Pro-democratic party activists are grateful to Constitutional Affairs Secretary Erick Tsang for publicizing their otherwise low-key 'primaries' to decide candidates in the LegCo elections in September. Maybe if they called it a 'survey' it wouldn't get officials so agitated – as with 'referendums'. The idea of course is to ensure a multitude of tiny pan-dem parties don't split the vote. Here's the details. And a stand-up offers a zippy explanation.
Given that many candidates will likely be disqualified, it will probably send a louder message if pan-dems boycott the election. Let Beijing explain a 20% turnout.
New Republic on the Left's aversion to criticizing China's human-rights violations in Xinjiang. (I'm in the who-cares-what-they-think camp, but it would be nice if the article did more to explain why the tankies think like they do.)
At the other end of the spectrum – just because John Bolton says – it doesn't mean it's nuts. A proposal that the US recognize Taiwan. Yaay.
A bit dated now Canberra has done the deed, but why Oz (and anywhere) should scrap HK extradition arrangements.
Atlantic on collaborators and why they do it – from East Germans devoted to the Soviets to Republicans going along with Trump.
…"voluntary" collaborators [were placed] into two additional categories. In the first were those who worked with the enemy in the name of "national interest," rationalizing collaboration as something necessary for the preservation of the French economy, or French culture—though of course many people who made these arguments had other professional or economic motives, too. In the second were the truly active ideological collaborators: people who believed that prewar republican France had been weak or corrupt and hoped that the Nazis would strengthen it, people who admired fascism, and people who admired Hitler.
Insert the names of the Hong Kong CCP shoe-shiners of your choice.
And the perfect gift for the man who has everything except a 10-year prison sentence for possession of illegal secessionist materials, the Glory to Hong Kong music box.