As his last day approaches, the Company Gwailo continues to clean out the orifice. I've filled up a huge (now immovable) box of books for disposal before the Illicit Publications Police come snooping. And there's the inevitable stack of old business cards. Some will be donated to the HK Museum of Evil Radical Troublemakers…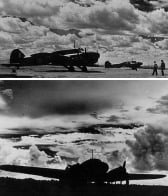 Long Hair anticipating today's radical trend and toppling a statue – of Tofu-for-Brains.
I also find an envelope of my father's things – mostly photos of aircraft, but also a copy of a Singapore newspaper. Sin Chew Jit Poh was founded by Aw Boon Haw, and is related to Sing Tao (and thus the Standard) of Hong Kong. The date is Wednesday, November 20 in the 35th year of the Chinese Republic – 1946. In the news that day: Zhou Enlai walks out of the negotiations overseen by George C Marshall in Nanjing and goes to Yan'an – which led to the final full Civil War between the Communists and the Kuomintang…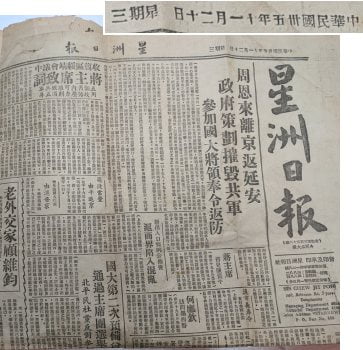 A little Dragon Boat festival reading…
In Apple Daily, Michael Davies offers a good summary of the flaws and contradictions in basic principles in NatSec law…
…the crime of collusion seems aimed to stifle all international human rights advocacy.
Apple Daily has an English-platform app. (Also in media news, Now TV is being Mainlandized.)
Some detailed analysis of that disputed China-India border.
And for anyone who cares what overseas die-hard dogmatic leftists think about China and HK, New Bloom on the Qiao Collective. (I follow weirdo sub-cultures – far leftists, white nationalists, Salafi nuts, Jehovah's Witnesses, survivalists, extreme terf/anti-terf freaks – for entertainment. Mentally unhinged = fascinating. This is about a curious subspecies of overseas Chinese tanky, who in addition to the usual struggle with contradictions (How can non-whites be imperialists? How can we defend the rights of Hongkongers when the evil boo hiss USA does it too?) have to grapple with an ethnic identity angle. The author sees this group as 'a form of left-wing diasporic Chinese nationalism as a response to … right-wing white American nationalism'. For enthusiasts only.)