So… one day Executive Council member Ronny Tong tells us the 'whole weight of Common Law' will ensure justice, and former judge Henry Litton says no Common Law court would convict you of subversion simply for holding a banner. The next day the Justice Secretary admits the National Security law won't be compatible with Hong Kong's Common Law system.
And now a Beijing official says the central authorities will have jurisdiction over rare cases involving 'serious threats'. We don't know what constitutes a 'serious' threat. Nor do we know whether 'central jurisdiction' means separate courts, transfer of suspects across the border, or what. But then we still don't even know what the new law will say.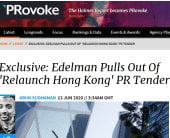 Amid this confusion, it's no surprise that the Hong Kong government has suffered a tragic setback in its second desperate and forlorn attempt to lure PR agencies to help repair the city's battered image. The prize catch – the venerable Edelman company – has dropped out of the bidding. 
This call for pitches in March-April was more focused on a global business audience, and supposedly less daunting than the one last year (which expected PR firms to magic away the whole protests/police brutality mess). Officials probably saw the Covid pandemic as a window of opportunity – then Beijing dropped the National Security bomb and the challenge became more impossible than ever.
For a taste of how badly the government needs advice on communication, here's a wretchedly bad video trying to convince you that the National Security law will be all fine and dandy.
You might ask why, when evil foreign forces are infiltrating our city and trying to topple the CCP, the government wants Western expertise. Surely, 20,000 years of civilization, Confucian wisdom and Xi Jinping Thought should ensure that Chinese PR skills are at least as good as a bunch of American hucksters. We could go further and ask why, when officials routinely denounce foreign comment on our 'internal affairs', the government deigns to give a damn what Westerners think anyway.
Patriotic Mainland academics lament Hong Kong's failure to de-colonize its thinking, and the Western world is waking up to the CCP's true nature and starting to disconnect from China. But Carrie Lam and her fellow puppets are stuck in a time-warp where Asia's World City still exists and craves the approval of white businessmen.
Even Beijing's own state media believe that the ultimate killer trump card in this battle of ideas is Vindication by Gwailo.
China Daily presents a Canadian guy doing one of those 'impromptu pour-heart-out behind the wheel' vids explaining why Hong Kong needs to be CCP-ized. (This guy has also been wheeled out on CGTN wanting his kids to be proud Chinese. Some demented conspiracy theorist on Reddit thinks he's real – 'a Shenzhen loser who wants some extra income by selling his ass' – but I assume it's a computer-generated thing.)
Where one audience is concerned, the propagandists are correct in thinking that whites have more credibility. Many older educated Hong Kong middle-class blue-ribbon types – Regina Ip fans and other products of the colonial-cringe era – pass these videos around on Facebook avidly. My theory is that it helps these anxiety-ridden identity-confused outcasts assure themselves that they are not turning into parochial Mainland hicks. 
The quest for a PR agency with sub-zero integrity continues.