During SARS, Hong Kong's radio newsreaders would announce the previous day's death toll – it might be three, or seven, or even double-digit numbers of people. During Covid-19, we have a daily count of rights, freedoms and independent institutions that have been struck down.
Yesterday, we had two (that leap out).
First, the Legislative Council (after pro-democrats had been removed) voted for pro-Beijing Starry Lee as chair of the house committee by 40-0. This clears the way to ram through the National Adoration (Compulsory Paroxysms of Patriotic Joy) Bill. It also makes the legislature redundant as a check on the executive.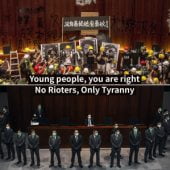 A creepy and bizarre picture of LegCo security guards surrounding the chair prompts a rather elegant juxtaposition-meme, and a Badiucao pic.
Second, the government looks set to ban the annual June 4 vigil, by extending the bar on certain types of gathering of more than eight people to that date. Subtle! The community has a couple of weeks to dream up alternative ways of marking the occasion, perhaps ways that attract more people and are far harder to police – waving gifs of candles in shopping malls, say.
Other mortal blows to the old Hong Kong are of course in train – such as the prosecutions of 15 prominent pro-democrats, who were formally charged and bailed yesterday. The CCP, which is clearly behind the arrests, is also smearing Lee and others in a CCTV documentary for Mainland consumption.
Although just a drop in the ocean of politically-driven prosecutions, the imprisonment of the high-profile and moderate veteran like Martin Lee would be a major blow to whatever remains of the Hong Kong administration's overseas image. Lee would (I suspect) relish martyrdom after all these years, and the CCP are too consumed with their psycho-paranoiac-Leninism to resist giving it to him.
It would also complete a classic, and brutish, United Front move: forcing the local bureaucrats and tycoons to defend the jailing of the 81-year-old Lee, who was a personal friend and (in some cases) mentor to their kids.