Hong Kong's top civilian officials and whoever runs its police force are obviously reading from different scripts.
The Financial Secretary agonizes about renewed protests harming post-pandemic economic recovery as…
…fewer people patronise shops and restaurants because of gatherings and conflicts, or businesses have to pull down their shutters temporarily.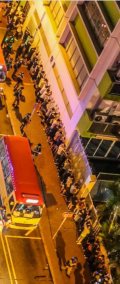 Fair point after months of semi-lockdown.
Meanwhile the police celebrate Mothers' Day by going nuts in shopping malls (using social-distancing rules as a massively unconvincing pretext). A selection of clips from Twitter show the cops freaking out at CitySuper, pepper-spraying a food court, and apparently squabbling with one another. Among other mayhem, they assault lawmaker Roy Kwong, bully and manhandle assorted kids, line dozens of people up against walls, force reporters to kneel on the floor, and God knows what else.
The HK Police are no doubt stroppy after having a bad week, in which media exposed senior officers' illicit property arrangements, a bunch of them were caught dealing in drugs (and not on a small scale), and they get a dead detainee on their hands, among other problems.
But the frenzied rampaging over people singing in malls at this time is probably part of a bigger strategy: Operation Just-Another-Thousand-Arrests-Will-Do-It Part 9. It looks like someone high up in the chain of command – Ministry of State Security, or new bosses at the HK & Macau Affairs or Liaison Office – is calculating, in their wisdom, that if the cops really ramp up the pepper-spraying and arresting, they can nip the post-pandemic resumption of anti-government sentiment and activity in the bud, oh yes.