The Hong Kong government decides its number-one harmony-promoting priority following the virus pandemic is… pushing through the National Anthem (Compulsory Adoration) Bill.
And former Chief Executives Tung Chee-hwa and CY Leung launch a 'Hong Kong Coalition' to counter the city's anti-government movement.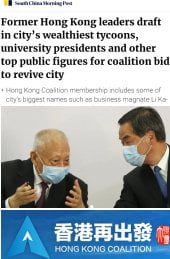 The new grouping is almost a parody of a Liaison Office-driven United Front operation. Its other faded and unpopular leading members are 'heavyweights' Tam Yiu-chung and Maria Tam. As if that's insufficiently unappealing to public opinion, it drafts in every property tycoon and his son(s). Its first Big Original Initiative to grab hearts and minds: to distribute face masks to the peasantry.
Like that lame idea, the website suggests that the supposed alliance has been hastily put together – though someone must have worked overtime arm-twisting 1,500 other shoe-shiners, especially from business and universities, into signing up.
Maybe a few less-discerning blue-ribbon types will get a kick from this stale concept and its stale cheerleaders. Its main purpose is the classic United Front tactic of 'unifying' loyalist elements – forcing fence-sitters to publicly align themselves with the Party. Maybe this worked under Lenin in 1920s Russia or Mao in 1950s China. But in Hong Kong in 2020, the masses will find it amusing at best, otherwise just pitiful, and certainly alienating.
Some mid-week links…
From HK Free Press, a handy explainer on the Expat Cops Illicit Property Scandal Uproar. And a great thread on the subject, complete with delightfully unflattering commentary on the officers involved.
If the Shoe-shining Alliance of Shoe-shiners want some ideas on how to design a website with cool graphics, some HKU people have released an Anti-Extradition Bill research database, including a timeline, stats and a glossary of phrases. Also, an amazing and addictive poster search engine.
Asia Sentinel proposes a fascinating theory about how Beijing's paranoiacs see the unrest in Hong Kong. It's not the CIA that's behind it – it's Xi Jinping's enemies in the Bo Xilai faction.
Also perhaps to be taken with a pinch of salt, the latest leak received by Reuters suggests that Beijing fears the virus pandemic could boost global anti-China sentiment (hey, d'ya think so????) A 'pinch of salt' because of course the leak could itself be a deliberate message to the US to not mess with us when we're in extra-fragile hyper-panicky freak-out mode.
And in the spirit of Positive Energy – not only the people but maybe even the government of Hong Kong (or at least some departments) deserve a pat on the back for beating back COVID-19.