In a reminder that normal life continues, Luckin Coffee – China's always-unconvincing Starbucks wannabe – goes down the tubes. Hong Kong (ie Beijing) delays granting a visa to Australia's new Consul-General owing to some Panda-tantrum or other. Hong Kong's courts rule that, under some circumstances, police can access phones without a warrant.
In its latest make-it-up-as-we-go-along anti-virus measure, the Hong Kong government shuts all bars for two weeks. The city's bartenders tell Carrie Lam what they think of her in a video – it's not pretty…
The government also issues a CCP-tinged statement condemning RTHK for its WHO interview…
It is common knowledge that the WHO membership is based on sovereign states. RTHK, as a government department and a public service broadcaster, should have [a] proper understanding of the above without any deviation
The station – proudly intent on going to the chopping block with its head held high – responds with a polite 'Rubbish'.
'In a move likely to anger China', I declare the weekend open with a round-up of the best examples (after weeding out dozens) of the Great 2020 WHO/CCP-Mutilation Frenzy…
Reuters wins Headline of the Week Award for: Non-Existent Country Run by Cat-Owning Spinster Gives WHO Massive Kicking (cont'd).
(A reminder that Taiwan's success in keeping the Wuhan virus at bay is not due to Confucianism, not to democracy, but to… this. Also, perhaps more prosaically, while we're at it, this.)
From French think-tank Institut Montaigne, a fairly even-handed but ultimately damning account of the WHO's Panda-pandering, including a less-than-flattering assessment of Hong Kong's Margaret Chan (if you're in a hurry, summary here).
Less even-handed, perhaps: Sky News Oz lays into the WHO's puke-inducing sycophancy and servitude.
Bloomberg on US intelligence's report on China's cover-up, quoting Senator Ben Sasse…
"…this much is painfully obvious: The Chinese Communist Party has lied, is lying, and will continue to lie about coronavirus to protect the regime."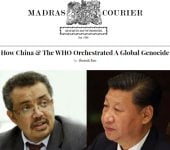 SCMP/Politico report that US Senator Martha 'never trusted a Communist' McSally calls for WHO boss Tedros to resign, and proposes that China write off all its loans to the US.
And (don't say we don't look far and wide) the Madras Courier (founded 1785, no less): How China and the WHO Orchestrated A Global Genocide.
Plus, Inappropriately Annoying Jaunty and Happy Audio Track of the Month Award goes to the Hong Kong Consumer Council.
On more general matters…
Reuters on the 'new hawks' taking over China's foreign affairs. (Bill Bishop of Sinocism points out that mouth-frothing foreign affairs spokesman Zhao Lijian has support among the Mainland public and from Xi Jinping – and asks whether the younger generation of PLA officers are also anti-American hawks.)
It hardly needs to be said, but a reminder from HKFP that the virus isn't doing much to boost China's fantasy about annexing Taiwan. Reuters (again) looks at the country's identity/branding challenge.
Clive Hamilton, author of Silent Invasion, sees CCP infiltration of the UK.
From SupChina, authorities in Qingdao demolish an illegal structure – not your everyday Hong Kong-style rooftop hut, but a whole development of tacky villas covering a small peninsula.
SupChina also offers a dummy's guide to Lei Feng.
And something completely irrelevant, for those in quarantine. According to photographer Félix Nadar (it says here), the Paris Catacombs is "one of those places that everyone wants to see and no one wants to see again." He never met my mother, who first visited the gruesome tunnels when a schoolgirl in the 1930s (on a trip to the French capital that also involved a chance meeting with King Zog), and insisted I took her back for her 75th birthday. For newbies. or people who can stomach it a second time, a vivid virtual tour.
Finally, thoughts involving retail-industry jargon on the sad demise of the 1881 Heritage branch of Tiffany's, leaving Hong Kong with but 12 others…