Most Pitiful-but-Funny Event of the Month for last September, we will recall, was the leaking of the Hong Kong government's failure to convince any public relations agency to help try to reverse the drastic decline in the city's international reputation. (Flashbacks here, here and of course here.)
HK Free Press reports that the Carrie Lam administration is not be deterred, and will do the job itself via a 50% boost in spending on the Information Services Dept for overseas promotional work.
As is readily apparent to anyone who looks at ISD communications material, the department comprises civil servants whose main target audience is the boss. Hence such sophisticated and persuasive messaging as Don't Do Drugs Because They're Not Nice – Let's All Not Do Drugs! Sure enough, HKFP digs around the small print of the 2020-21 Budget and finds the ISD mission focusing on buzzwords our superiors will approve, like 'Belt and Road' and 'cosmopolitan' and 'quality living'.
As the PR agencies no doubt explained to Carrie last year: this is not an image problem – it's a substance problem.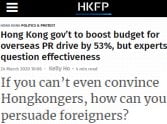 Hong Kong is suffering a serious lack of government legitimacy. Rather than fix that (which the CCP refuses to allow), the authorities are trying to eliminate the main symptom, namely the protest movement, by bludgeoning it out of existence. The wider world sees this on its TV screens – and Hong Kong's reputation as a stable, free city collapses.
The ISD's strategy will be to transpose the government's same inappropriate, counterproductive and heavy-handed response onto the field of communications. Rather than concede there is a problem, the PR campaign will insist that everything is fine, blaring out the same old slogans about rule of law and hubs. We can bludgeon the audience into believing!
McLuhan's 'medium is the message' happening before our eyes.
A little morale-boost for the ISD spin-doctors as they start their work: the cruelest part of the September leak was that PR agencies refused to pitch for the Hong Kong account because it would harm their reputations. Ouch.