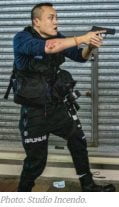 We interrupt this coronavirus epidemic for a few hours' tear-gas, pepper-spray and arbitrary-arrests mayhem, starring a cop apparently on some sort of acid-dexedrine cocktail waving a Glock around. Agonized official hand-wringing follows about the harm this terrible violence will cause an already ailing economy. But, as ever, there is no acknowledgement that government might need to fix any underlying problem. It's all the fault of flowers laid outside an MTR station which spontaneously erupt into burning barricades that can only be overcome by spraying chemicals into bystanders' faces. We must crush the flowers.
So as WuFlu recedes, back we go to the imbecilic cycle – under the stiffened resolve of Beijing's new overseers – of trying to tear-gas and arrest the city into peace and harmony.
To put moaning about the Financial Times or Apple Daily online paywalls into perspective, here's an article on the political science of this that costs US$240 to read. Courtesy of the bizarre world of academic journals. Fortunately, they let you have a pithy abstract that probably gives most of the plot away…
Beijing has been unable to impose its nationalism directly from above. Instead, it has [co-opted] local elites, who have promoted state nationalism from within. This … has led many among Hong Kong's political elite to compete in expressing an increasingly overt Chinese nationalistic posture as a way to signal loyalty to Beijing. [This has backfired], triggering … a … popular Hong Kong sub-state nationalism. [And, voila! You get…] intensifying radicalization and polarization between the authoritarian establishment and the democratic opposition.
In academic-journal 'abstract'-speak, they use the word 'monist' for 'mouth-frothing top-down Leninist control-freak'. They also use the phrase 'a reactive form of popular Hong Kong sub-state nationalism'. This means 'HK independence movement'. Which the CCP, Beijing's new knuckle-dragger bosses, the local administration and, not least, the police seem determined to deliver.