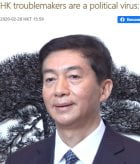 Typical, isn't it? Someone who is literally an iconoclast gets put in charge, and they turn out to be humungously clunky and uncool. Luo Huining, Beijing's church-dismantling new Liaison Office plenipotentiary in Hong Kong, tries to Reach Out to the locals. The health-care workers' strike, he says (in a letter to pro-Beijing figures), was akin to a 'political coronavirus'.
I guess to an apparatchik speech-writer in Sai Ying Pun, this is quite a sophisticated, pointed and witty turn of phrase. At least, such rhetoric might have dazzled yak-herders when the 'political veteran with no relevant experience' was running Qinghai. Not going to cut it here. How's this for persuasiveness…
"As long as the ports of entry are open, various goods will continue to be transported to Hong Kong, including rice, oil, flour, fresh meat, fruits, vegetables, disinfectant and tissue," Luo said.
I declare the weekend open with a modest selection of on-line diversions…
Easy to forget amid the scramble for toilet paper that there's an independent inquiry into the HK Police still due sometime. Amnesty International explains how it probably won't could happen.
Bloomberg reports that Hong Kong's population fell in 2H 2019 – the first time in two decades. (It was by 7,900, or 0.1% of the population. Presumably net of Mainland immigration, which could have been 20,000? Watch the numbers for 1H and 2H 2020.)
The Catholic Daily Compass on how the Vatican is handing Hong Kong to the CCP.
Jeffrey Wasserstrom on Hong Kong/Bay Area) as a latter-day Berlin, and on the global impact of Hong Kong's protests. Already mentioned his new book on the subject; now Antony Dapiran has published one – City on Fire: the Fight for Hong Kong. Also just out: The Myth of Chinese Capitalism by Dexter Roberts.

My Little Airport are still around – enjoy a whole concert (and click on the pics for 'Donald Tsang, Please Die' as a bonus).
Radii on why epidemics and disease are such touchy subjects in China's history; the Globe and Mail on outbreak orientalism; and the BBC on virus-and-Sinophobia.
A nice rant on how the CCP will spin the outbreak it caused to its advantage.
CNBC on why the White House (let alone most right-thinking people) doesn't trust Beijing's disease statistics.
CNN on how the virus has infected the WHO.
A great short documentary on a single woman in China under pressure to get married (she has since, wisely, emigrated).
Reuters reports China's threat to throw a tantrum if a Czech politician visited Taiwan.
And for fashion fans: 19th century Japanese firemen's coats (more interesting than you might expect).