The Hong Kong government shuts most remaining passenger border crossings. Of the 14 control points, this leaves only one overland link with Shenzhen, namely Shenzhen Bay. The other main one is the airport. The other two are the little-used Zhuhai Bridge and the usually empty Cruise Terminal.
While this doesn't hermetically seal the city off from the Mainland, it does funnel travellers through a couple of points where they can be (we assume) subjected to thorough inspection. Shutting down the huge crossings at Lo Wu and Lok Ma Chau is a major step.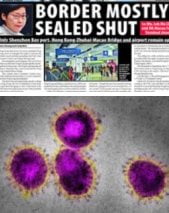 Chief Executive Carrie Lam stoutly denies that the U-turn has anything to do with naughty hospital workers pointing a gun at her head, and further insists that she has Hong Kong's interests at heart. Sure.
Question: What has had a massive impact on Hong Kong recently but, being 0.1-0.2 microns in size, can be viewed only with an electron microscope? Correct – the government's credibility.
(Is it just me, or is the official announcement (top link) noticeably lacking in the usual whiny, shrill and defensive finger-pointing? Almost as if someone is learning to be grown up and swallow their pride. Or maybe the regular scribe is off sick.)
Possibly jumping the gun – but the impression I'm getting is that WuFlu is more flu than Black Death, and the immediate health scare is going to start subsiding before long. In which case, our battered and bruised local leadership must go back to all that unfinished business. Former Governor Chris Patten offers some pointed reminders of the messes that need to be sorted out (video, more quotes and pithy responses here). (Update: whoops.)
Meanwhile, let's enjoy the delightfully empty streets while they last. For those employed in traditional local sweatshops, work continues much as normal, maybe with a free bag of face masks thrown in. But lots of people at reputable, serious-sounding international companies are 'working from home', and expect to do so for at least another week or more. Which makes me wonder: why do these firms rent huge expensive offices, if their staff can get so much done by email and conference call (and these companies do seem to be conducting business as usual) on their sofas in their apartments?