A mysterious killer-plague virus spread from wombat-to-human is on the loose out of Wuhan. Hong Kong undergoes a sudden outbreak of face-masks. It will be interesting to see how much Chinese officialdom has learned since SARS. (When they tried to cover it up: a reminder of how the CCP killed nearly 300 Hongkongers in 2003.)
In theory, Mainland bureaucrats today should understand the need for transparency. But the reality is that China now has tighter censorship and greater rule-by-fear under an Emperor-for-Life screwing up one thing after another (swine flu, Hong Kong, Taiwan). For the sake of the personality cult, things cannot get nasty. If the disease does turn out to be seriously deadly and spreads overseas, the regime will need someone to blame or something to distract attention, big time.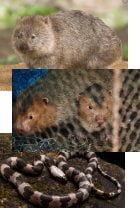 Don't panic! It would be nice to think that Hong Kong too is better prepared than 17 years ago. But the intervening period, we joyously recall, has been all about 'integration'. We now have a convenient high-speed rail connection to – yippee – Wuhan. We have a government that was last seen trying to convince the courts to let it ban face-masks (for public safety, yes). And then there's the little matter of credibility. When Tung Chee-hwa spoke, you knew you were going to hear something stupid; with Carrie Lam, you know it's probably going to be a lie.
Update: not wombats, but bamboo rats.
Update: not bamboo rats, but snakes.