Another selection of HK Free Press photos from 2019.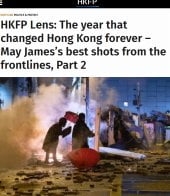 'The year that changed Hong Kong forever' still seems to be a difficult concept for some establishment types to grasp. If you take the most militant pro-independence protester and the most hardline-Leninist Beijing official and sit them down at a table, the one thing they will both agree on is that Hong Kong will not go back to the way it was. Yet just yesterday I met another nice, mild-mannered member of our business 'community' who is in denial – not just hoping but clinging to the illusion that 2019 will somehow be unwound before long, so we go 'back to normal'.
That means back to having Hong Kong run by witless bureaucrats focused on looking after their tycoon buddies. It means back to Beijing not just installing them in power, but ignoring whatever they do and how it effects the rest of the dissent-prone population. It means back to the population grumbling about it, but otherwise shrugging it off.
We are, most likely, in for increasing repression by Beijing – and deeper resentment and popular resistance in response. There's an outside chance that the CCP will come to its senses and give Hong Kong more space and responsive governance. But there will be no 'back to normal' – that's just a coping mechanism for those who can't come to terms with the loss of their absurdly cozy power-structure. I told him he might try taking a bath.
More about what probably/possibly will happen next week. Meanwhile, I declare the weekend open with a handful of links.
A guy from the Spectator drops by and ponders the long-term stakes for Hong Kong. He is possibly exaggerating China's future grip on international policymakers.
An update on protest-related arrests (almost 7,000) and charges.
The Jamestown Foundation on how China under Xi Jinping has moved away from…
…tolerance of ethnocultural heterogeneity, and towards a virulent form of cultural nationalism that pathologizes dissent and diversity as an existential threat to the Party and the nation…
…which is arguably not exactly the same as 'racial supremacist ideology', unless perhaps it is, or something.
With that in mind, a magnificent rant about think-tank types who haven't picked up on the nature of China's regime since around 2012: it's not about economics, it's about a 'cancerous mass that is evil and opposed to any concept of human freedom'.
For some positive energy, watch HKUST grads perform 'Danzmocrazy'.