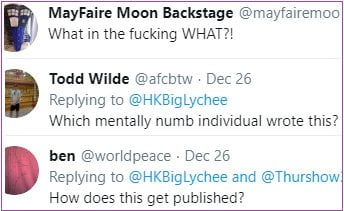 After I was a bit snarky about a borderline-insane anti-protest column, someone at the SCMP wearily/patiently pointed out that they do carry a range of op-ed pieces. In the interests of fairness and seasonal goodwill, I pass on a couple from today.
Some iconoclastic common sense about how Hong Kong should make the drop in Mainland shoppers/tourists permanent and enjoy such benefits as lower rents and a more diversified economy.
And if that's not subversive enough for you, here's an erudite comparison of Xi Jinping's regime to the late Qing dynasty. Ouch…
As we saw with Hong Kong Chief Executive Carrie Lam Cheng Yuet-ngor with the extradition bill and Empress Dowager Cixi with the Boxers, part of the problem in having eunuchs as advisers is that they do not advise but instead cloud one's judgment, observations and reasoning.
I am pondering a grand Nostradamus-like prophecy for the new year (it will not be a good one for the local eunuchs, I suspect). In the meantime, I declare 2020 open with a selection of worthwhile reading and other material…
The BBC looks at Hong Kong's emotions (don't be put off) as 2019 draws to a close.
CNN does an elaborate multimedia look back at the uprising.
For your (10 mins) listening pleasure, RTHK's wrap-up of a year of upheaval.
HK Free Press presents the best of photographer May James's shots from the frontlines.
I couldn't bring myself to look (must be full of CY Leung and God knows what), but if you can stand it – a review of the whole decade in Hong Kong.
More US media coverage of the HK Police: the LA Times, including an interview with a cop-turned-protester; and the NY Post on that hapless tear-gas-banana-art attempt at PR.
On the subject of culture: government-scrubbed slogans become a new (and quite vivid) transitory art form on Hong Kong's streets; how (they said it could not be done!) the protests have turned kids on to Cantonese opera; and (does this count as culture?) Hong Kong Protester Cats…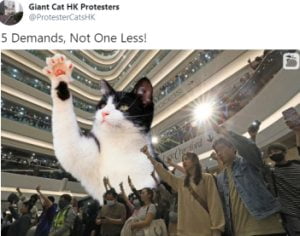 The Committee to Protect Journalists report on China's influence on Hong Kong and Taiwan media.
Minxin Pei on Xi Jinping's bad year. Speaking of which, Nikkei Asian Review asks whether the Emperor-for-Life folded on trade.
Two quick and illuminating threads from experts: the supposed easing of China's hukou system, and the trap awaiting countries that overdo current-account surpluses/capital-account deficits.
The Diplomat goes in-depth on how (and more to the point, why) Sweden incurs the Wrath of the Panda in no small way.
Strictly for hardcore enthusiasts of the CCP's influence operations in Central Europe, details of the Czech Home Credit saga, featuring the phrase 'weaponization of mediocrity'.
And on a completely different plane of existence, guaranteed to cure the toughest New Year's Day hangover – why the Pre-Raphaelites were so into wombats.