The problem with being a police force that says officers don't display ID because the uniforms have insufficient space is that people don't believe anything else you say. So excuse the public if they don't take the Glock find and the nail-bomb find all that seriously.
Presumably, we are supposed to think elements in the protest movement hope to further their cause through mass-murder. Even if such a deranged fringe existed, could it acquire such apparently high-grade and illegal materials? (Hint: you are invited to suspect evil AmCham/CIA foreign forces of supplying them.)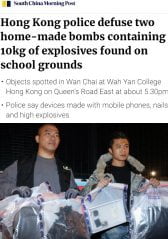 Another possibility is that pro-Beijing extremists were plotting to use the weaponry – say, against marchers. That would be so counterproductive that only lone nuts – again, probably without access to sophisticated munitions – would consider it.
At the other end of the scale, we might wonder if cops acting under authority planted the stuff in order to smear the opposition. (Note 'under authority'.) At the risk of sounding naïve, let's be charitable and doubt they're that dumb. (In a nice mood today.)
Assuming the seized items are real (and not like the 'Molotov cocktails' that turn out to be unopened beers or plastic bottles of cooking oil), who would benefit from these finds? That would obviously be the government and Beijing, in terms of PR. This points to some of the real nasties out there ('patriotic' Triads, possibly rogue cops, maybe Mainland spooks) who could get their hands on a classy handgun, ammo and high-explosives. One anonymous tip-off later – and the police are gleefully parading evidence and showing off their intrepid sleuthing.
This could be uber-patriots acting alone, or someone in the Liaison Office getting desperate – assuming there's a clear distinction. It seems the likeliest explanation, anyway. (Or second likeliest if you think cops are that dumb.)
Unlike the SCMP, the government hasn't gone into an outraged panty-wetting mega-frenzy over this – which it would (rightly) do if it genuinely believed someone was planning a terrorism campaign.