Donald Trump signs the HK Human Rights and Democracy Act. As well as annoying all the right people ('a slander of China to a level close to madness'), it could in theory lead to sanctions against officials involved in rights abuses here. Probably won't. But penalties potentially include freezing of assets in the US. Mmmmmm! These people are drawing up a list of names. Suggestions welcome (provide serious evidence).
Meanwhile, leftists are struggling to get their heads round US support for the Hong Kong protest movement. (It's all so icky bourgeois-liberal. Also, they can't bear to be on the same side as Ted Cruz, Marco Rubio, et al. This is a milder and localized version of the tankies who venerate the Chinese, Cuban, Venezuelan regimes out of blind hatred for the evil West.)
Predicted but perhaps arriving sooner than we thought: the Hong Kong government is pondering loyalty tests for civil servants. Teachers should expect similar treatment some time. A politically impartial civil service is of course incompatible with Beijing's Leninist principles. One result will be to stir up resentment among the bureaucrats.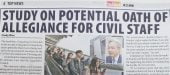 The CCP is also coming for the Hong Kong business community. The tycoons felt sure they had shoe-shined enough. They were wrong. After making billions from local and Mainland opportunities, number-one plutocrat Li Ka-shing has for years been adroitly 'reweighting' his family's extensive assets away from this part of the world (to Western democracies). He has also failed to sufficiently demonize the protest movement/praise the administration – thus incurring the Wrath of the Panda. Reuters has managed to squeeze a few quotes out of him. The comments are on the enigmatic side, but the guy so rarely does any sort of interview that it counts as an exciting exclusive scoop. (Some interesting reminiscing about the time a young regional official called Xi Jinping groveled to Li for investment.)
A couple of worthwhile topical links…
A Hong Kong Free Press explainer on what the new-look District Councils can do with their pan-dem majorities. (No, I shouldn't have called the newcomers 'inexperienced'. As well as experience and skills, they will bring the creativity and idealism of the last six months with them – the contrast with their DAB predecessors could be vivid.)
And a Comparativist article on Hong Kong's recent paranoia-driven conspiracy theories and the in-depth video and other analysis volunteers perform to get to the truth. (As Superman tells Reuters: "In the world of social media, some people are hard at work in sowing toxic doubts and disinformation to undermine trust.")