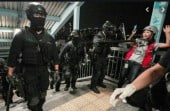 With complaints of sexual harassment (see also here and here) and talk of cops dumping protesters' bodies in the sea, some links on What the Hell Happened to the Hong Kong Police?
An article (based on an original in Chinese) on how cops turned into colonial-style paramilitaries so fast and enthusiastically, and now seem to be running the government rather than vice-versa. (A synopsis is here.) Includes discussion of the force's recruitment methods and high salaries.
This raises the question of how, from the 1980s-early 2010s, they managed to be a relatively respected and popular public service. My hunch is that the transformation has much to do with recent Mainland intervention rather than/as well as latent colonial-era structures.
And, with reference to Vietnam War press briefings, some more on how the Hong Kong police have lost credibility.
Next week's big excitement will be Chief Executive Carrie Lam's Policy Address. An administration that has a longstanding inbuilt inability to craft decent policy, and which has lost nearly all credibility, and which has had much of its power usurped anyway, will try to distract attention and even win popularity by presenting irrelevant welfare and livelihood measures – which will, we can guarantee, be utterly lame anyway. Stay tuned for episode 59 of Let's Make Everyone Angrier, coming Wednesday.
I declare the weekend open with some reading from Quartz. Hong Kong benefits from the NBA Streisand Effect. (No! Don't mention the NBA!) And how the protests have given the spoilt, pouting 'gong nui' a makeover. I thought the Canto-princess stereotype belongs more to the materialistic 1980s-90s, anyway. One unique and unmissable contribution of young women on demonstrations is their highly effective, piercing cheer-leading for slogan-chanting.
For media fans, the challenges facing the Hong Kong press – protests and censorship.
And the brilliance of online advertising algorithms.