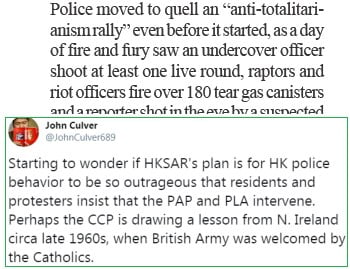 Is it a cunning plan to make us beg for the PLA, who at least will be more disciplined and probably polite? It's as good a weird theory as any to explain what the Hong Kong Police were trying to accomplish yesterday. (Pix etc here, here, here and all over.)
The authorities must by now have given up hoping that violence on the streets will reduce support for protesters/increase it for the government. So the least-absurd conclusion is that Beijing's officials directed the cops to go Full Mayhem over the weekend on the assumption that it will convince everyone not to turn out tomorrow.
In other words, when you see (among much else) lawmaker Eddie Chu Hoi-dick pepper-sprayed in the face and someone in a wheelchair shrouded in tear gas, then hear of the latest arrests, having read about academic Dan Garret being turned away at the airport and lawyer Jason Ng losing his job – you will suddenly become obedient and love the Chinese Communist Party. Or at least resolve to make sure the regime doesn't lose face on National Day.
Because we can't have that, can we?
And in case you were wondering: What would Confucius think?
Also, Atlantic looks at how Hong Kong is winning, in some ways leading, the international public-opinion war.