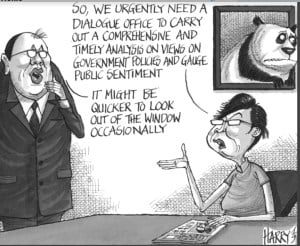 Moody's downgrades Hong Kong's Aa2 credit rating to 'negative'. The explanation echoes that of Fitch…
The change in outlook to negative reflects the rising risk that the ongoing protests reveal an erosion in the strength of Hong Kong's institutions, with lower government and policy effectiveness than Moody's had previously assessed, and undermine Hong Kong's credit fundamentals by damaging its attractiveness as a trade and financial hub.
The ratings-speak sounds almost cryptic: there is a 'rising risk' that 'protests reveal' an 'erosion in the strength' of Hong Kong's institutions. It adds that 'the longer the stalemate persists, the greater the risk that these strengths are revealed to be eroding'. Stripped down, it means the protests are highlighting just how surprisingly crap Hong Kong's governance might be. As with Fitch, Moody's expresses concern that closer political and economic ties with China will drag Hong Kong's standards down. It adds…
The weakening capacity of the Hong Kong government to implement policies to preserve living standards, competitiveness and financial buffers could in turn undermine key drivers of its competitiveness and macroeconomic stability.
Translation: the idiots running the city are a menace to its well-being.
The idiots respond with the standard whiny press release, which – as if they're not looking pathetic enough already – also deliberately distorts Moody's wording.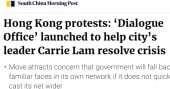 To further emphasize the point, the local government – with nothing else to do now Beijing has taken control of key functions – announces an 'Office for Dialogue' (even the SCMP puts the absurdity in quotes). Having refused to listen to outsiders for 20 years, withdrawn ever deeper into a bureaucrat-tycoon echo chamber, barred young people from the legislature and ultimately lost all legitimacy, it now sets up a bureaucratic body to organize some sort of interaction with the natives. With (let us guess) special guest star Henry Tang!
Maybe it can start by discussing some recent opinion poll results.