An interesting discussion on the differences between land and housing policy in Hong Kong and Singapore. And here's more explanation of Hong Kong's sociopath housing market, including a quote from Ronnie Chan gloating that the margin on Hang Lung's HarbourSide development was an incredible 78%.
As many supporters of the anti-government movement like to point out, Hong Kong's unrest is about Beijing's attacks on the city's freedoms and way of life, not – as opponents of the protests prefer to think – about basic material things like housing. But stupid/corrupt policies on livelihood issues have undoubtedly helped boost public anger over the years and undermined the local administration's legitimacy. To China's leaders, the resulting discontent looks like a threat to national security, thus probably prompting Beijing to speed up Mainlandization. It's all linked.
Given the CCP's phobia about institutional reform, the only carrot they can use to calm Hong Kong is better governance on livelihood issues. So it is natural that they want to finally definitely really really Do Something on housing this time.
The pro-Beijing DAB proposes that the government include land resumption – forced purchase, essentially from developers – in the forthcoming Policy Address to release developable land. The party is also criticizing the slow supply of public housing.
The government and the DAB itself have previously opposed resumption – while pro-democrats have suggested it. The DAB is no doubt afraid of losing votes in the coming local elections. But more to the point, it is a core CCP-front. It wouldn't formally propose that the government include it in next month's Policy Address unless someone told it to. The property developers' lobby REDA is also tentatively endorsing the idea (provided it focuses on the least useful parcels of idle farmland they sit on).
We can conclude that this will indeed be in the Policy Address. If so, we look forward to the media asking officials why the mechanism was unacceptable just a few months ago – but has suddenly become possible?
Of course, no-one thinks this gimmick will put the local government's shattered legitimacy back together. The long, grinding clampdown must continue.
Behold the HK Police Force's latest bright idea: snitch hotlines. They are on WhatsApp, so you can send photos and so on – I'm sure someone will find imaginative and fun ways to give the cops plenty of leads. Even sillier: issuing off-duty officers with retractable batons, because we don't have enough image problems already.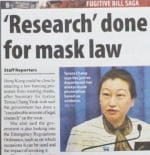 And the government is openly looking at using emergency powers. Because – why boost your credibility by 5% through resumption of land when you can cut it by 20% by banning masks?
Pro-Beijing groups are demanding political monitoring of teachers, including cameras in classrooms (already common in Mainland universities, of course). While others are calling for a similar regime to control journalists, and to turn RTHK into a propaganda outlet.
With heavy-handed concepts like these floating around, who needs the CIA to keep the uprising alive? The latest act of resistance to spring out of nowhere is the creation of a Hong Kong anthem. Never mind the lyrics or the melody – just wonder at the hugely symbolic subversiveness of Glory to Hong Kong being sung in malls, and now in an orchestral vid that has gained 660,000 views since… yesterday.
(A rather thin rendition in English if you want, or kawaii Japanese, or try the arrangement for flute. And not forgetting 'soft power' – there's talk of a Vietnamese karaoke version.)
The SCMP coyly calls it a 'theme tune'. No doubt the government will introduce a second anthem bill making it illegal to stand while this one's playing.
(If it's really not your cup of tea and you prefer Taiwanese metalcore – here's a tribute to Hong Kong from Obsess.)