And so our visionary leaders try the latest 'Tsuen Wan model' mayhem-based solution to a citywide uprising provoked by 20 years' atrocious governance and the creeping imposition of a one-party authoritarian regime: shutting down MTR stations, deploying the much hyped-up water cannon, having cops wave their .38 revolvers around – and of course yet more upon more tear gas. (Plus the platform for dialogue, maybe?)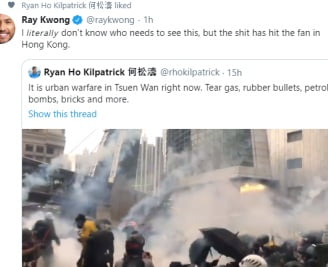 One school of thought is that the Hong Kong authorities are trying to prove to their masters in Beijing how big and tough they are in order to dissuade the CCP from sending the troops in. Another theory is that Beijing and its local zombie-puppet administration are upping the mayhem as a pretext to deploy paramilitary forces.
A third hypothesis would be that Beijing is clueless about what to do and is wetting itself. Its threats are hollow, and its insistence that it won't back down is bluster. If that's the case, the Chinese leadership needs to deflect the blame and humiliation away from its infallible and exalted self with a nifty narrative about what was really happening.
For example, Beijing could arrest Carrie Lam and her cohorts for treason and put them on a show trial at which they admit full responsibility for sabotaging national sovereignty. Xi Jinping is supposedly a great fan of Joseph Stalin. And ultimately it is the Da Da derriere on the line here.
Meanwhile, how's that October 1 deadline coming on? One SCMP column maintains that it is getting tighter, so the government really must make those oh-so-obvious-and-easy little concessions to get this mess wrapped up for the National Day festivities. Another suggests that Beijing is turning cool, calm and suave, and sneering about how We don't need no stinking deadlines. Again, there is a third hypothesis – a petrified Panda pee-pee panic going on behind the scenes.