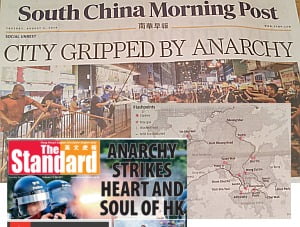 Yesterday's 'general strike' initially involved: lots of people late for work; a fair number of staff taking sick or other leave; some shop and business closures; reduced movements at the airport, including suspension of the Airport Express rail link; suspension of services on (at least parts of) seven other MTR rail lines (can you name seven MTR lines?); and peaceful gatherings in around half a dozen parks and other places, including Shatin's New Town Plaza (site of the Odessa Steps-class iconic imagery of this revolution for our era).
That was the warm-up. By the afternoon, it moved on to: blocked roads and tunnels; around half a dozen highly mobile 'like-water' street assemblies and marches in Admiralty, TST and elsewhere, some entailing police tear-gas barrages; sieges of eight police stations (Tin Shui Wai, Tai Po, Sha Tin, Tsim Sha Tsui, Wong Tai Sin, Sham Shui Po, Tuen Mun and Tsuen Wan) along with a marked increase in projectile-throwing and fire-setting; and, by evening, scattered 'clearance' mayhem leaving some neighbourhoods looking like the Gaza Strip or somewhere; attacks on protestors by pro-Beijing groups in several locations; multiple arrests, and amazingly not many serious injuries.
Let's say (conservatively) that we could identify 20 events yesterday as separate outbreaks of disruptive 'anarchy-chaos'. If just one of them had happened three months ago it would have been a major shock-horror news story on its own.
In the absence of any other sentient life-form performing a role that vaguely equates to 'government', the police have become a main target of the protests and broader public antipathy. Apparently relishing the chance to trash their once-decent reputation, the cops have, among other things, now fired 1,000 rounds of tear gas at what they consider cockroaches in the last two months. (More on CS here.)
In the midst of all this, rarely sighted Chief Executive Carrie Lam and her team of utterly depressing and worthless sidekicks appeared at a press conference to confirm to the community that, for all practical purposes, they are not here.
At some point, scoundrels pulled the Chinese flag down and dumped it in the harbour – again. Perhaps it is all jumbled up in my mind, but it seems that shortly after this outrage against sovereignty, the Chinese government announced another of its exciting press conferences on Hong Kong for this afternoon. Supposedly, they 'may announce something new but their position is unchanged'.
Where does Hong Kong's spiral end?
It should be pretty clear by now that Beijing has no idea what to do. Any and every option is unpalatable (as with other crises on Xi Jinping's plate – like retaliating against the US tariff hikes with a symbolic RMB mini-devaluation).
A logical, objective view is that Beijing's choice is between giving Hong Kong functioning engaged leadership to pull the city out of this mess or, as one analyst says, imposing a major clampdown on civil liberties. In practice, it is hard to see the Leninist paranoiacs trying to reconcile fears of color revolution and big economic doo-doo doing anything decisive. As a diversionary stunt, they might defenestrate a few local zombie-officials or drop hints of sending troops in. (Any chance of Taiwan-style no-more-tourists-for-you punishment? Please?)
Whatever they announce today, Beijing officials will reiterate it with extra finger-wagging at a pep-talk for local loyalists (NPC/CPPCC members) in Shenzhen on Wednesday. That suggests we can expect a classic CCP blend of dull but at the same time nasty.
The best we can hope for is a few quiet and restful nights for everyone before the weekend.